Eleven-year-old saves her 6-year-old brother from a stranger who tried to kidnap him while they were playing
Any parent would do everything to protect their children from the various and possible dangers that surround them, but they don't always manage to be there in time of need. Not out of negligence, but out of human distraction or work commitments. The important thing is to be able to educate children so that they know how to deal with potentially dangerous situations. Thankfully, little Julianne Moore, an 11-year-old girl, knew what she had to do when her little brother suddenly found himself in danger, despite being very afraid. A stranger, in fact, tried to kidnap Hayden, Julianne's younger brother, but she was able to act promptly and with great courage, saving the situation.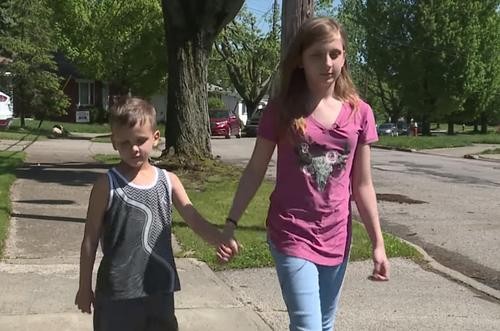 The situation could have escalated and, today, Julianne is well aware that her brother is safe and sound thanks to her. The two were playing together in the garden of their home in Cleveland, Ohio (USA), when a stranger approached their home and began observing them. Initially the man just watched them play and babbled something under his breath, - Julianne reported that neither she nor Hayden could understand a single word coming from the man's mouth. Then, suddenly, the stranger lashed out at Hayden and grabbed him by the arm. Julianne screamed and promptly grabbed Hayden's other arm, yanking him in an attempt to get him away from the bad guy.
Julianne was properly educated by her father, Joshua, about the dangers and possible bad guys that populate our world. A lesson that, of course, was not aimed at frightening his daughter, but at making her recognize a threat to her when she encountered one Julianne was able to show that she learned her lesson well: thanks to her promptness, she literally saved her little brother. The girl immediately ran, hand in hand with her brother, to call her father, who ran out of the house furious, ready to face the attacker who wanted to kidnap his son. The man, however, almost ignored Joshua and walked away with his back turned. Joshua then immediately called the police, alerting law enforcement that a man had just attempted to kidnap his 6-year-old boy.
Joshua, the father of the two children
The police managed to track down and arrest the attacker, Pedro Luyando, a 33-year-old man, before he could harm any other child. Joshua says he is very proud of his daughter Julianne and the entire Cleveland community also praised her for her courage: a true heroine!