A firefighter helps a woman give birth and then adopts the baby girl: "I have always wanted a daughter"
When you take on the role of firefighter, you get used to saving lives. Marc Hadden, however, did not imagine that one day he would deliver a baby girl, saving her life, and that from that day on she would become his daughter. It was November 14, 2011, when Marc found himself answering an emergency call from a woman who complained of severe abdominal pain. Once there, Marc did everything he had to do to help the pregnant woman: she gave birth to the baby and everything worked out for the best. When the woman was taken to the hospital, however, she expressly stated that she could not take care of her baby and it was at that point that Marc raised his hand to get in line for the adoption process. He would never have imagined it, but the dream he had with his wife, of having a daughter, was about to come true.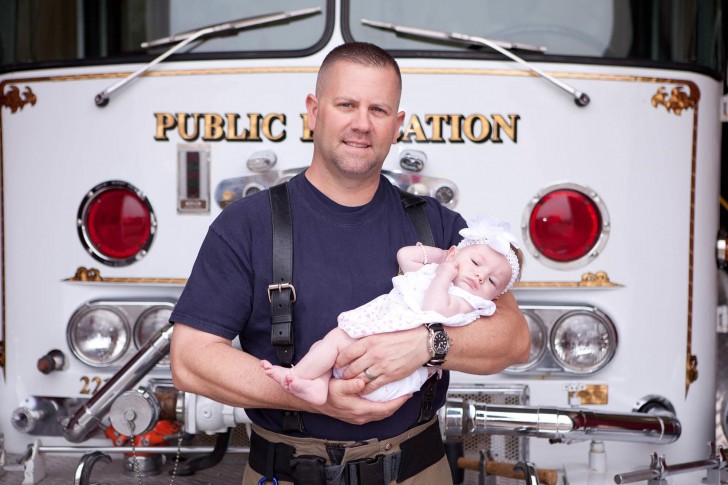 Marc and his wife already had two sons, but they longed to have a daughter. Unfortunately, having already had some complications with the first two pregnancies, they had long since opted for adoption - a very long process, as we know, which does not always fulfill the desire for maternity or paternity. When Marc, that day, called his wife Beth to tell her that he had helped deliver a baby girl, during his day as a firefighter, the woman jokingly replied: "Can we keep her?". She didn't realize that this little girl really needed a new loving family to take care of her.
When Beth heard the story of the rescue with her own ears, she asked Marc if she could visit the woman who had given birth in the hospital. Beth felt a lot of compassion for this woman who was already struggling to raise a teenage son at the time: "I brought her a little prayer book and asked if she needed anything," Beth said. As the two women talked, a doctor came in to inform the mother that they were ready to proceed with the adoption and it was at that moment that she said the "magical" phrase to Beth: "I can't give my baby to someone who I've ever met". At that moment, Beth told the woman that she and her husband Marc were very keen to adopt a baby girl, but that the adoption process would still take a long time and they didn't know when they would be able to make this wish come true.
The woman looked at her and replied: "I want you to adopt my baby girl." Soon after, she had little Gracie brought in (this is the girl's name) and Beth was able to hold her. Beth called Marc right away and said, "I think we just had a baby girl." By the end of that day, the couple had signed the temporary custody papers and only 48 hours after her birth, Gracie was able to go home with them. Today she is a wonderful young girl, happy with her family.
For Marc and Beth, adopting Gracie was like winning the lottery: "Sometimes the best things in life happen in the blink of an eye and you need to grab them with both hands!"