They get married on the dock of a lake and when the wedding rings are exchanged, the bride's ring falls into the water: the scene is surreal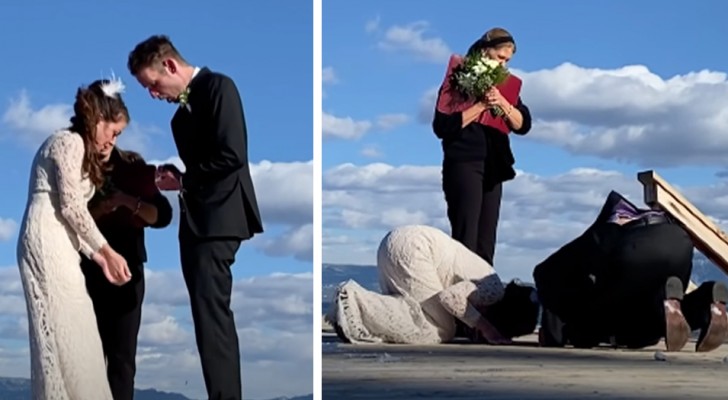 Advertisement
A wedding celebration should be, for those who choose to get married, one of the most beautiful days to experience together with their partner and with all those who love them and who are part of their life. It's a day that is usually planned down to the smallest detail and which no one would ever want to spoil with something unexpected. Andrew and Marlee Kent are a close-knit young couple from Washington who had romantically decided to get married on a pier in Lake Tahoe, California. A choice as romantic as it is inappropriate: in an attempt to take the wedding ring and put it on his wife's ring finger, the groom absent-mindedly dropped the ring into the water! Everything was going perfectly, but when Andrew pulled the ring out of his pocket, panic and disbelief followed.
via Insider
Advertisement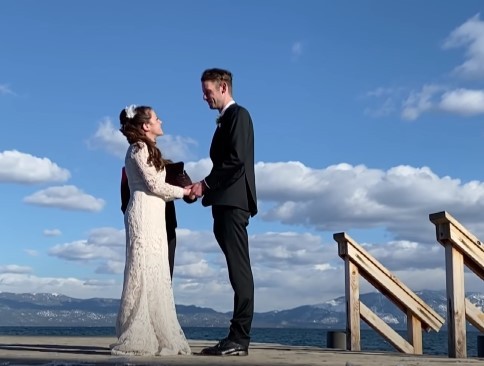 The waves seemed so romantic, the backdrop to that beautiful day full of love, yet it only took a moment to turn the water into a real nightmare. When Andrew pulled out the beautiful Tiffany & co. diamond ring, it seemed like a dream of love was about to be crowned, but instead, in a moment of distraction a tremble of the hand made the ring go straight into the water, between the cracks on the pier. We can only imagine the desperation the couple felt at that moment! In a video of the scene, the two newlyweds are seen bending over the dock to get a glimpse of the ring. In fact, as they later stated, the ring was clearly visible on a boulder, so much so that Andrew planned to pause the ceremony to retrieve the ring. All those present, however, advised him not to dive in because of the still very low water temperature in the lake. The wedding celebration went on without a ring, but for Marlee Kent it wasn't a problem: "All I'm interested in is marrying Andrew." At least the groom, however, was able to wear his wedding ring on his finger.
Advertisement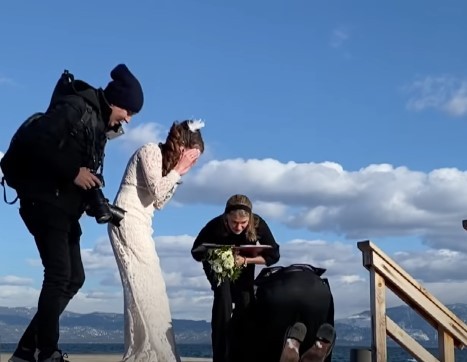 Fortunately, the couple were able to retrieve Marlee's ring the following day, thanks to the invaluable help of Phill Abernathy, a scuba diving enthusiast whom the couple found on a Facebook group dedicated to the sport. The couple helped Phill by trying to drop a pebble into the crack in the pier pavement, more or less in the same spot where the ring must have fallen the day before. In the end, the "rescue" of the ring was successful and the couple were relieved from the worry of having lost a jewel, so precious and important, forever.
All's well that ends well, therefore, and we can only wish this couple a lot of happiness!
Advertisement