At the age of 76, he works every evening as a delivery boy to provide for his disabled wife: his pension is no longer enough for them
In times of crisis, people are forced to make do in order to keep going, make ends meet and bring home the bread. An uncomfortable and very sad situation that the economic crisis we are all going through has made it even more serious: it has hit young people looking for work and also the elderly, who simply have a great difficulty in making do with their monthly pension at the end of the thirty days, without having to make sacrifices to keep going ...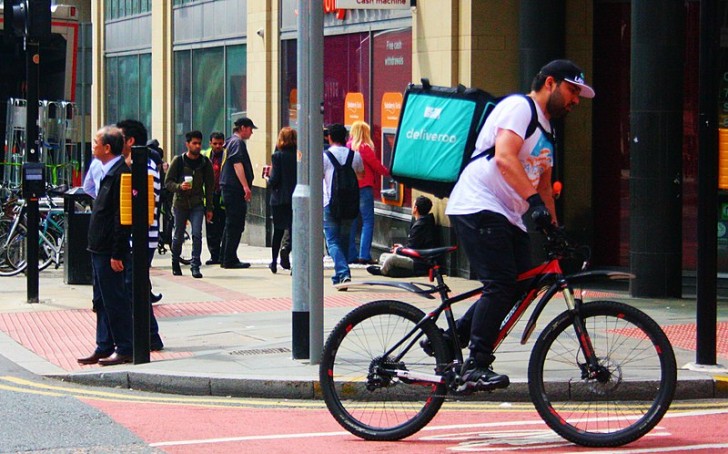 This is the story of Pierre, a retired 76-year-old who lives with his wife in Montpellier and who, to make ends meet, every day from 18:00, whizzes through the streets of the French city aboard his bicycle, as a rider for the home delivery of food, or delivery boy if you want to call him that. A part-time and precarious job that is often associated with young people who cannot find a steady job, and which instead this poor elderly retiree is forced to do to bring not only the bread home at the end of the day, but to put something aside to afford medical treatment and assistance for his disabled wife.
Lisa, a citizen of Montpellier, found out about Pierre's precarious situation, and, to help the man and his wife, launched a solidarity fund that has borne fruits over time ...
Yes, because Lisa's initiative has raised more than 17,500 euros to help Pierre's family, who will be able to afford a new wheelchair for Pierre's disabled wife, for example. Lisa said: "I saw him several times late at night riding his bike on the street. I remembered reading an article about him, doing it every night to pay for treatment for his severely disabled wife and to buy a wheelchair. It shocked me. So without saying anything to him, since I didn't know him in person, I launched this initiative so that this gentleman can stay at home with his wife instead of being a delivery boy to make ends meet. "
Pierre obviously then had the opportunity to speak with Lisa, his benefactress, and thanked her for everything she did for him and for his wife, thanks to the solidarity fund: now he can take care of his wife without having to spend the small hours riding around the city, aboard his bicycle!