Before and after adoption: 15 pets who found a new home and love their humans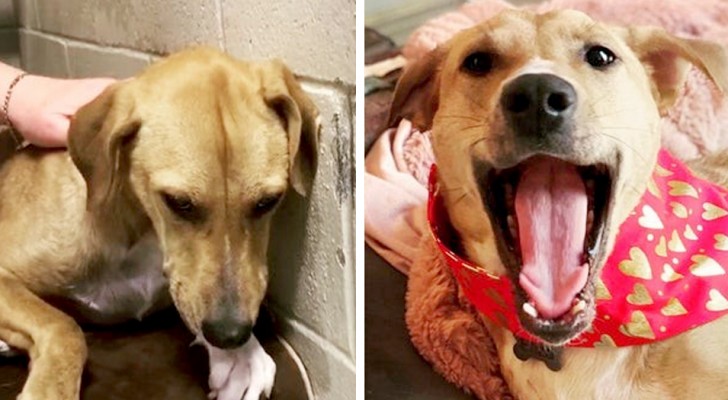 Advertisement
Those with a very sensitive soul know perfectly well that not all our four-legged friends have the privilege of living surrounded by the affection of a loving family, sleeping under a safe roof, being the best playmates and companions you can have in life. No, many of these little angels with tails and four legs live in the streets or have been saved and housed in a shelter, waiting for a new family to choose them and take them home; waiting for a new, powerful bond of affection to form between human and animal. Today we want to bring you a list of moving images of pets before and after adoption - we bet you will notice the huge differences!
Advertisement
Look at the grateful look from this dog who was just saved from the shelter ... what sweet eyes!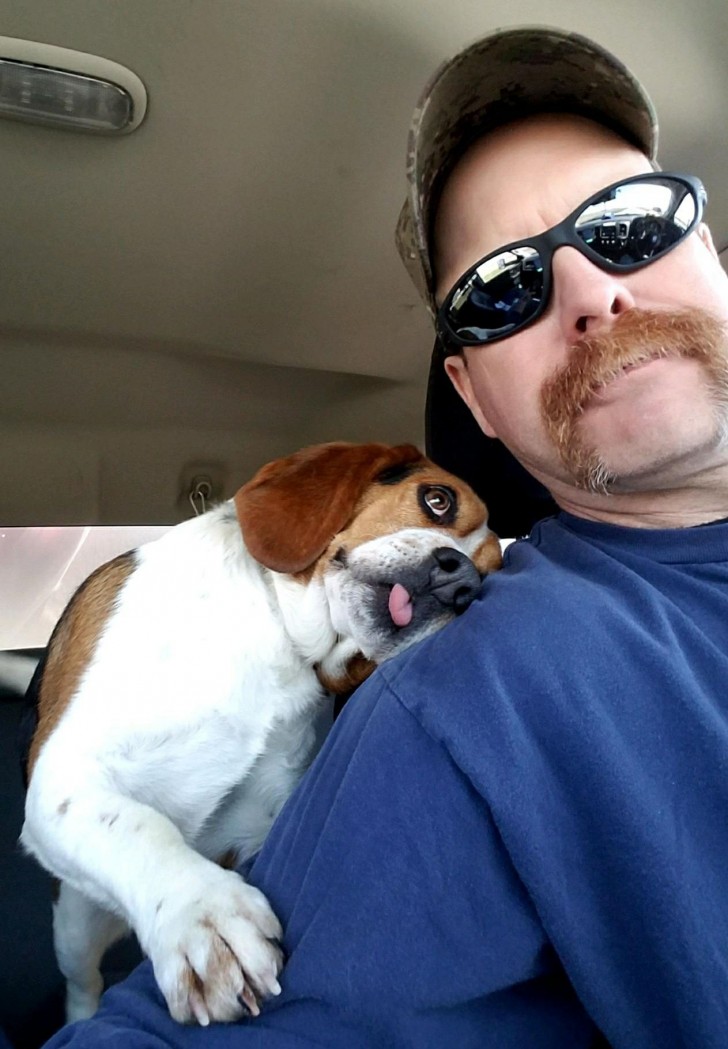 As this Facebook user tells us, Gregory was a dog who was to be put down by the shelter he was in, but luckily Joe saw him, fell madly in love with him at first sight, and decided not only to adopt him, but to literally save his life. Needless to add, Gregory seems very, very grateful to his new favorite human!
Advertisement
Before and after adoption: see how this cute kitten's expression is now much happier!
An adopted pit bull who now looks like a much happier dog!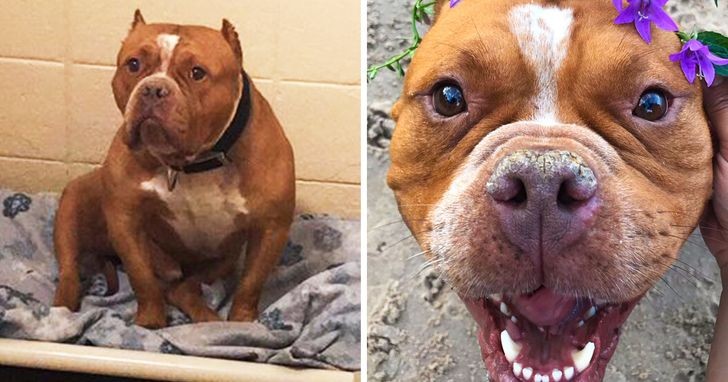 Charlie the pitbull went viral on the web when the sister of the person who first posted these photos realized that not only were these "before and after" images moving everyone, but they were encouraging people to share photos of their pups rescued from shelters and who are now established family members!
I adopted him, house trained him, he gained weight, became more docile and is now my best friend!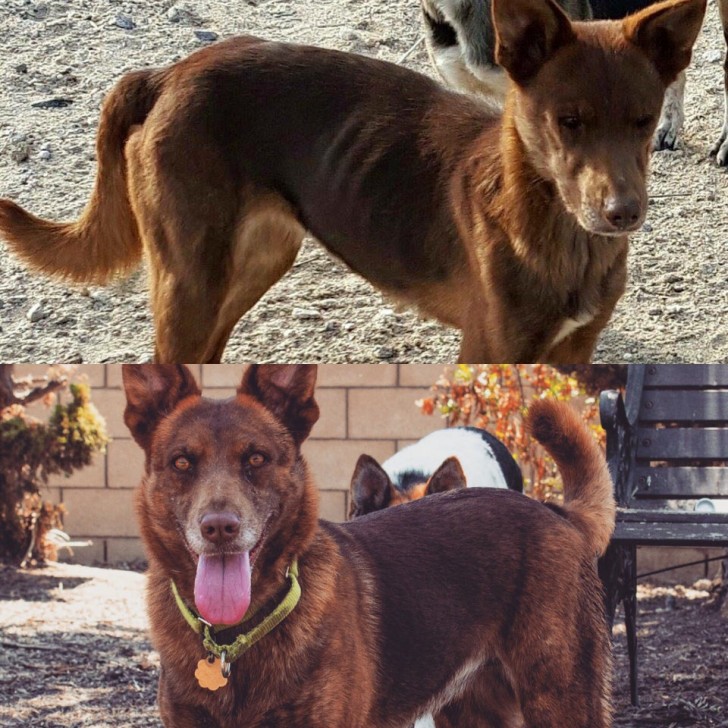 The author of this double photo shoot says that he volunteered at the animal shelter and immediately formed a very strong friendship with this big dog. From the eloquent images, you can also notice that now, he is happy, healthy and full of new found energy and joy!
Now this cat can sleep soundly!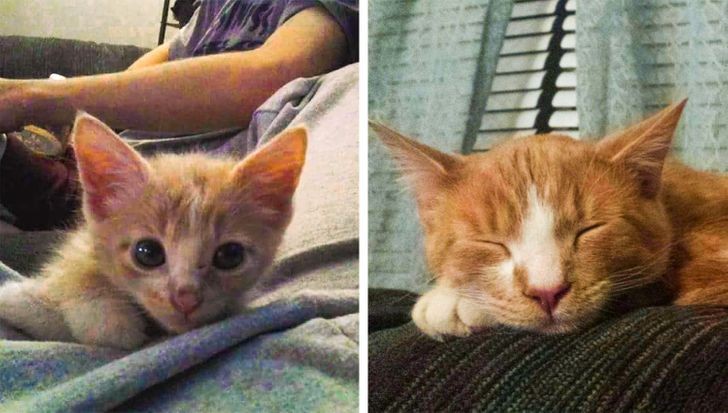 Advertisement
A playful little dog who has finally found her favorite human!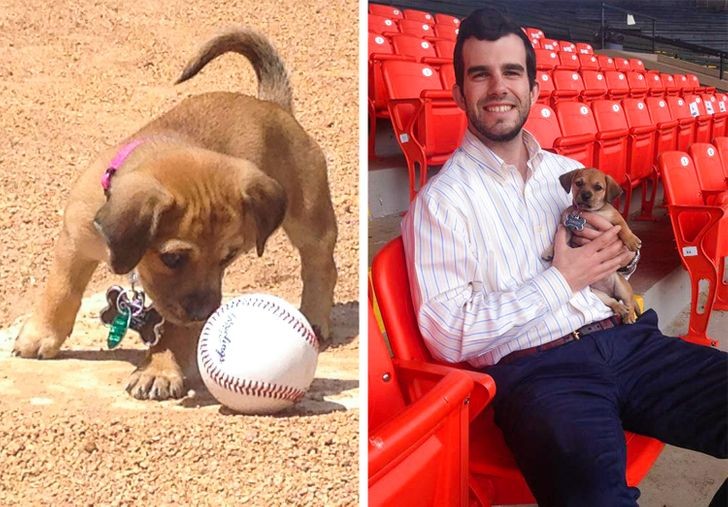 This little girl is called Daisy, a 7-week-old pup who was found in the parking lot of a large sports stadium by a staff member. The team president of the Savannah Bananas team has decided to adopt her and host her in his family and she is now the team's favorite mascot - isn't that great?
Here are other photographic examples published by the proud owners of these cute pets:
From a cat found in a garbage can, to a spoiled feline princess!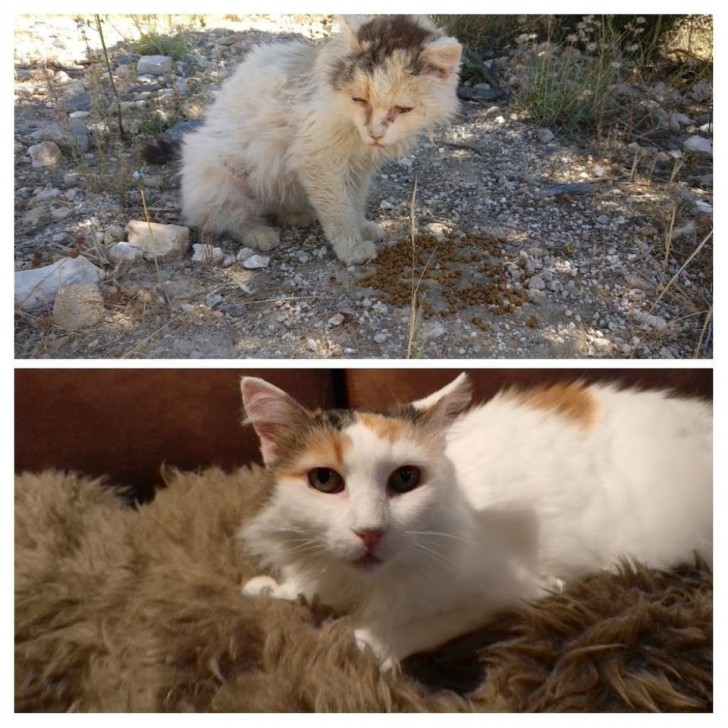 Advertisement
How she was and how she is: she looks pretty good, doesn't she?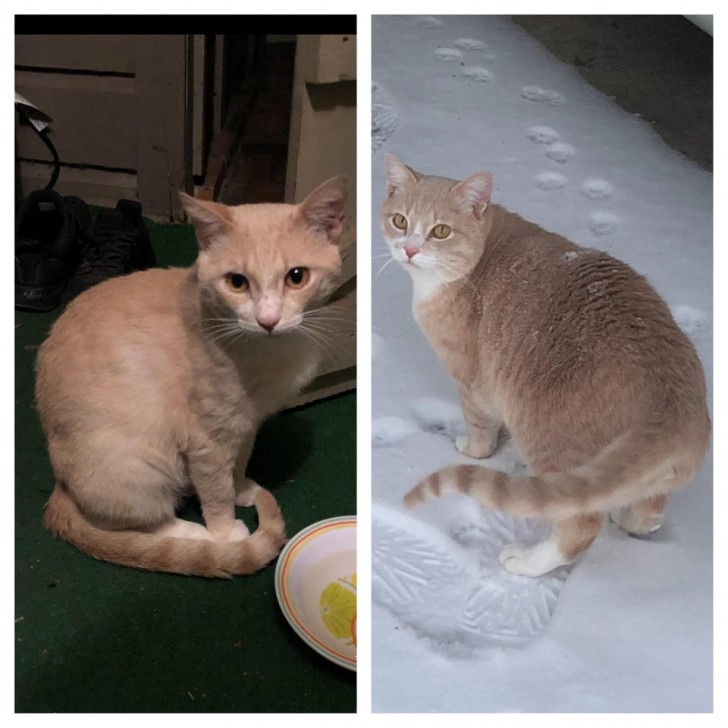 I found him like this, and after 18 months he is a very hairy and irresistible cat!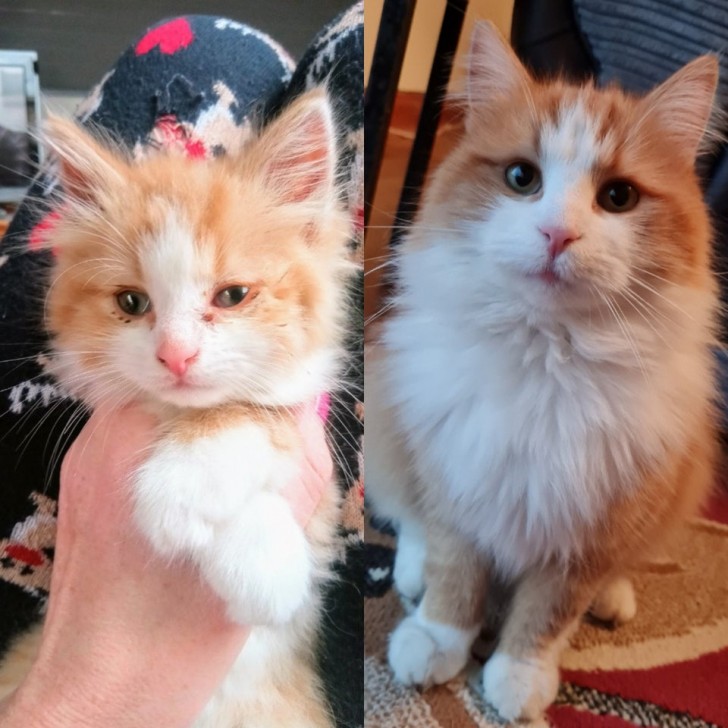 Advertisement
I found him malnourished and very dirty, now he is a delightful and happy dog!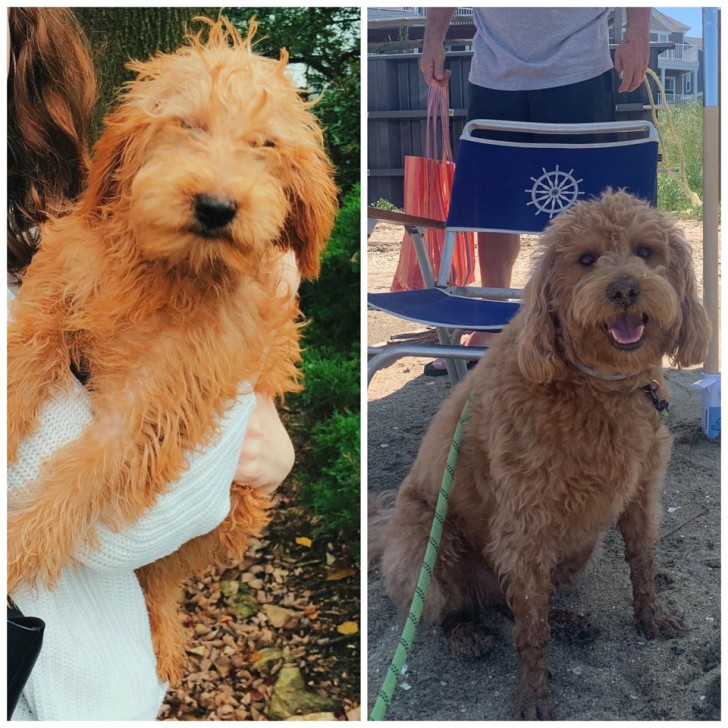 It was impossible to resist those big eyes: in the end, I decided to adopt her!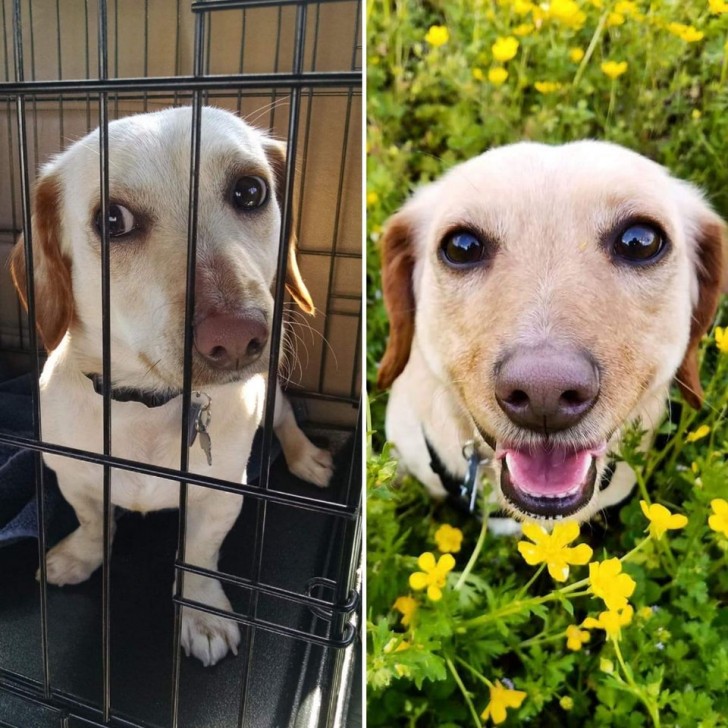 Advertisement
Before, he was a sad and lonely dog: it's been 6 years, and he's a full-fledged member of the family now!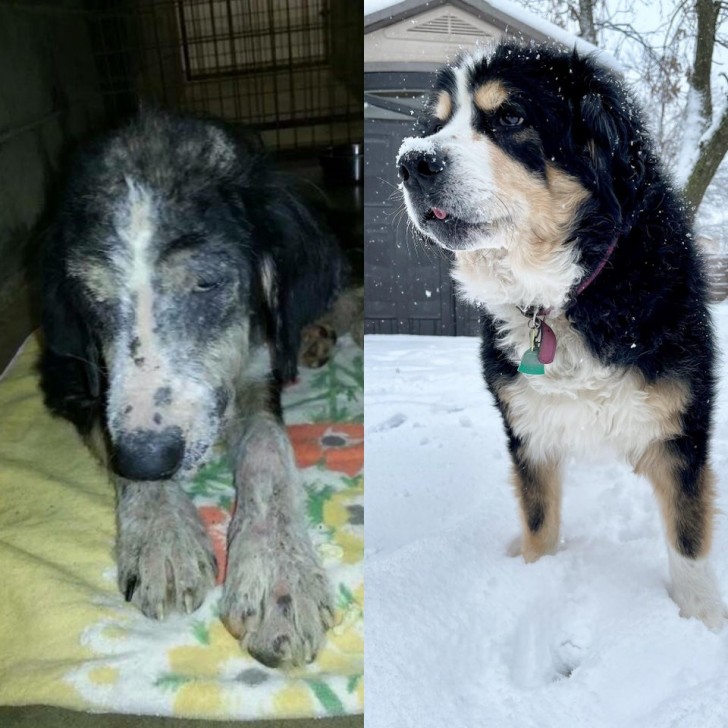 As soon as he was adopted he was a sweet but fearful dog, now nothing can hold him back!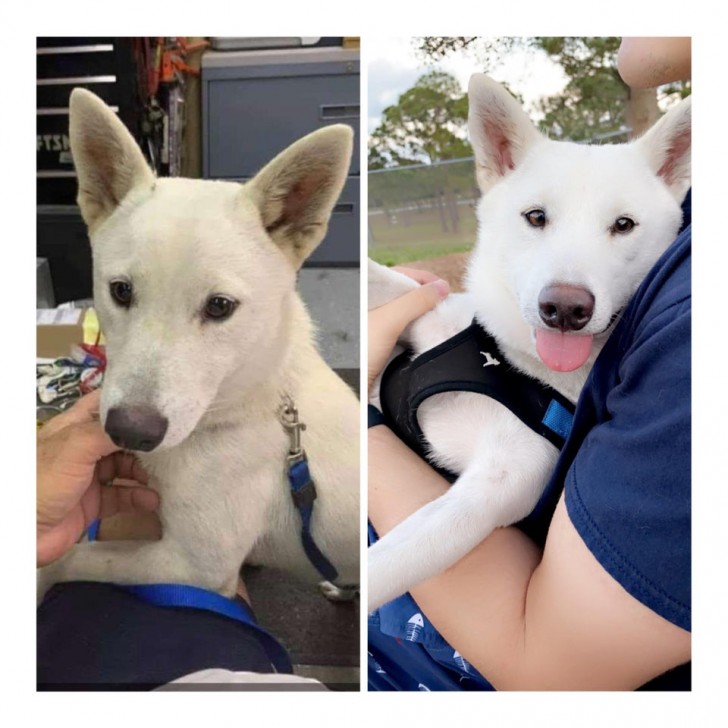 Advertisement
Being adopted also means sleeping in a cozier bed!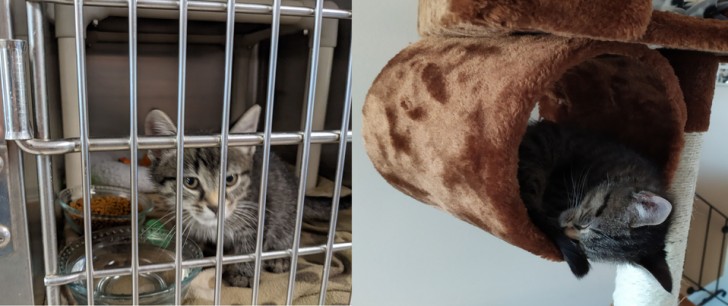 Do you see the difference too?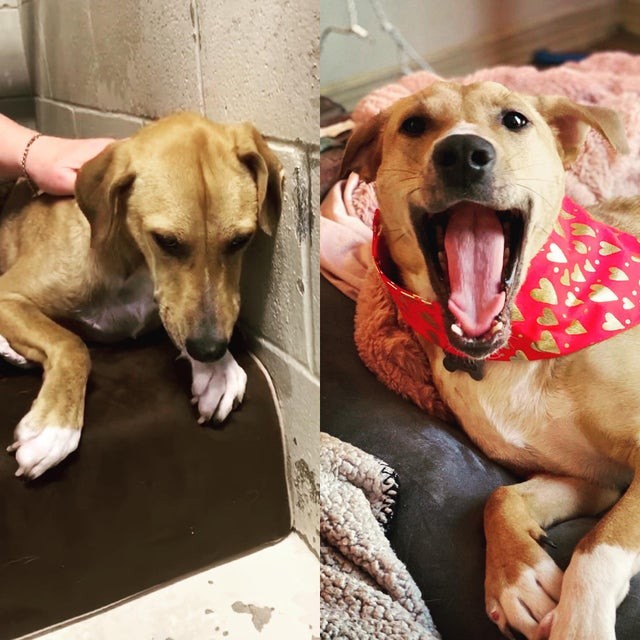 While you're at it, why not take a look at the Reddit Before and After Adoption group where you can continue to admire, perhaps a little teary eyed, photographic images taken by the owners of all types of pets, but mainly dogs and cats who have been rescued from shelters and adopted into a welcoming and safe home where they can start a new life and give unconditional love to their favorite humans.
If you too, at least once in your life, have decided to adopt an animal, you know very well how much affection these sweethearts can give and that they make life less lonely and less predictable. What would the world be without our four-legged friends!
Advertisement