16 people bitterly regretted having a tattoo done by an unskilled tattoo artist
1. On the left the face the tattoo artist should have recreated vs the one he tattooed: it doesn't even look like a child.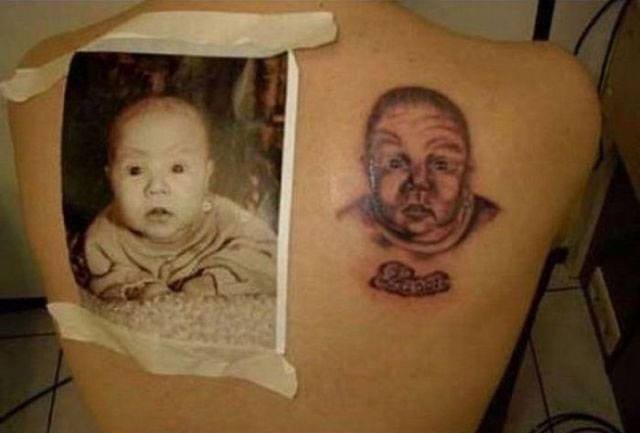 2. This guy found out that his Chinese tattoo means "turkey sandwich". The tattoo artist must have been hungry.
3. There's one good thing about this tattoo: at least it's easily covered by pants.
4. The face of a beautiful woman has been transformed into a nightmare face: who would have the courage to look at it?
5. We can't even read what's written here, would you like to hazard a guess?
6. The tattoo artist said it was his greatest masterpiece: we dare not imagine the others.
7. You need to practice caligraphy when you become a tattoo artist, or maybe not?
8. The client had specifically asked for a lion, but this doesn't seem to come close to being the king of the jungle.
9. A really bad tiger (or a leopard?) with crooked lines and a creepy expression.
10. Maybe she didn't measure her back to start with, but at the bottom the tattoo seems to have taken a bad turn.
11. On the left the tattoo he would have liked and on the right the work done by his tattoo artist. Next!
12. Pikachu usually doesn't have this frown or this protruding chin.
13. What was it supposed to represent? In any case, both the petals and the tiger's face need to be redone.
14. Here, too, the tattoo he would have liked vs the tattoo he actually has: can a tattoo of this size be covered?
15. We don't understand what it was supposed to represent, but surely the client had a different idea.
16. Imagine wearing and seeing this tattoo everyday for the rest of your life - could you do it?