15 photos a make-up artist's work show how you can enhance a face without going over the top
1. Foundation, highlighter, smoky eyeshadow on the sides and a light eyeshadow on the inner eye to enhance the color.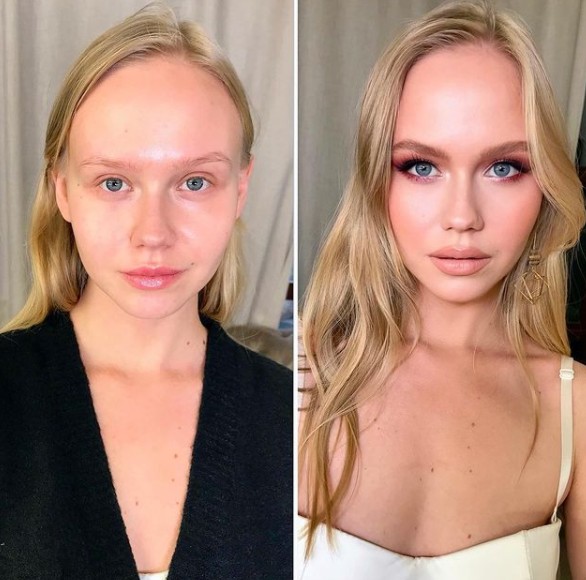 2. Eyebrows redefined and skin made perfect by the right choice of products.
3. A blue pencil and orange eyeshadow to enlarge the eye. And what eyelashes!
4. New eyebrows, eyes that look much bigger and fuller lips.
5. Here too the eye is enlarged with subtle eye shadow and with the use of black eyeliner pencil.
6. Every woman has her own strengths: in this case the already beautiful lips have been kept in a neutral color.
7. Here, too, the main objective was to enhance the look, and the make-up artist succeeded.
8. Defined eyebrows and a more incisive look thanks to the eyebrows and black eyeliner.
9. A bright tint on the lips and much thicker and more defined eyebrows.
10. Here, too, the lips are kept to neutral shades and all the emphasis of the make-up is on the eyes.
11. A purple eyeshadow on the bottom and a reddish one on the lid, redefined eyebrows and the girl is ready for Hollywood.
12. More elongated eyes thanks to eye shadow and eyeliner and a luminous face thanks to the right products.
13. Beautiful blue eyes and plump lips: minimal makeup, the key word is simplicity.
14. A luminous face with defined eyebrows and an intense gaze: the magic was done with a very light makeup.
15. Here, too, the lips are kept neutral: the make-up artist has a definite affinity for the eyes.