A 10-year-old boy is moved when he finds a little sister adopted by his parents under the Christmas tree
Christmas is truly the most magical time of the year: precious wishes often come true and stories are told that can melt the heart. In letters written by children to Father Christmas, it often happens that you read about really important wishes, which have nothing to do with toys or dolls. And the story you are about to read is an example of how big children's hearts can be. A 10-year-old resident of Iowa received the most touching advance Christmas present imaginable.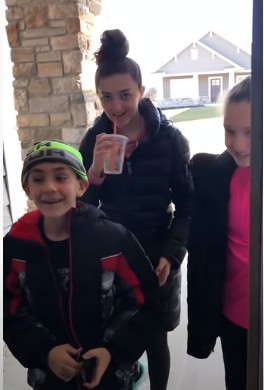 Fortunately, mother Stacy Lindsay recorded that moment, giving all of us the opportunity to be moved and share the joy with the family. For years the child had been asking for a younger brother or sister. He had added this wish to his Christmas letter, hoping that Santa would grant him this wish. For his parents, however, the situation was difficult: the mother had suffered five difficult miscarriages, and not even IVF had been successful. The parents therefore decided to try adoption, despite the fear of growing attached only to have to give a child back to its biological mother.
Stacey and Adam then met a young pregnant woman named Kendra, who was waiting to deliver her baby girl and then give her up for adoption. Kendra had chosen Stacey and Adam to adopt her baby, but the couple knew the process would be a long one. The parents kept the whole situation hidden from their son, because their fear that the little girl would not be able to stay with them was massive. But Kendra never backed down and Owynn's parents brought little Naylee home.
When the child arrived home from school that day he found an incredible surprise: the best gift he could have wished for. Little Naylee had been packed in her crib under the Christmas tree. "Do you know what this is? Read her shirt," Stacey told Owynn. On the baby's onesie was written "Little Sister". The boy shows his happiness as he holds his little sister in his arms for the first time. He then hugged and thanked his parents for the precious gift.
From this video we are sure that Owynn will be a fantastic big brother.