For years he begged for money in front of the same supermarket: in the end, the manager hired him
His name is Kemo Darboe, he is 40 years old and comes from Gambia, but for many years he has lived in Italy, more precisely in the city of Crotone, in Calabria. Kemo reached the Italian coast after having lived through some very dramatic years; he left his country of origin attempting to reach Germany, where he was to be joined by his three motherless children. But in the end, Kemo never moved from Italy, because his children passed away after a terrible car accident in Gambia.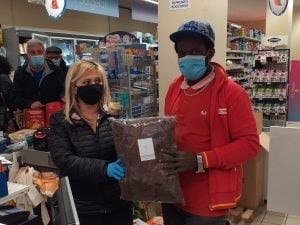 This is why the 40-year-old man decided to stay in Italy, in the city of Crotone, begging in front of the same supermarket for years. When, finally, Kemo asked the manager of the large supermarket for a job, even an unpaid job, the manager of the Crotone department store couldn't help but be moved and gave him a fixed-term contract.
The manager said: "I have known him for years and when he asked me for help I offered him a contract. I certainly did not expect this response or that I would be attract any special attention. I think it's just a normal gesture."
An extraordinary gesture, which was not made for any benefit of the manager, so much so that the manager Policastrese added: "This is a gesture like any other, a normal thing, and above all I have known Kemo for many years. I would have done the same for anyone."
An act of great generosity and solidarity towards an apparently "invisible" man with a difficult past who has experienced tragedy and who now, thanks to his boss, has the opportunity to look forward to a better future with confidence.