10 cost-effective ways to keep your children entertained this summer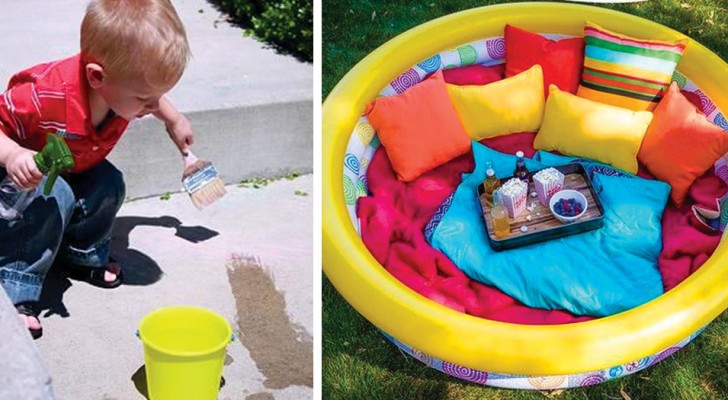 Advertisement
Summer has arrived and the kids are really looking for ways to express their creative sides. Although Summer is often a synonym of fun, every parent dreads the moment when kids are getting bored of their regular routine. They've already exhausted their other games, and now they want something new to play with or to do. Well, we've heard your cries, parents! That's why we decided to put together a list of activities for your kids to do that are fun, creative and, most of all, easy on the pocketbook.  
Advertisement
You can put together colorful wind chimes... put them outside and wait or a good gush of wind, and listen to them dance and chime!
You don't need actual chimes to put a wind chime together. All you need is some old necklaces, some bells, pieces of wood or iron, and a little bit of immagination!
Nature Bingo: in an egg carton, attach a sticker of images that children can find in nature (like the one shown in the image). Hand them out, and off on their search the kids will be!
Advertisement
What about having a snack in the comfort of their blow-up pool? If you don't want to fill it up with water, add some pillows and covers to it to make it extra comfortable and relaxing.
Go searching for rocks that are perfect for painting. Then, color them in with their favorite cartoon or videogame characters!
Kids love glow in the dark stuff. Throw glow sticks in your pool and let them go for a night swim (under your surveillance, of course).
Glowsticks or other glow in the dark items are perfect for putting in the pool!
Advertisement
Water baseball! Fill water balloons with water and use them in place of a baseball. It's a lot of fun and also refreshing.
For the craft lovers in your family, you could teach your kids how to put together these fun pinecone bird feeders!
Advertisement
Outdoor color scavenger hunts: gibe your kids some old color palettes and have them search the house and yard for items with like colors!
Wanna keep your toddler entertained for a few minutes? Give them a brush and some water, and his them paint the sidewalk on hot summer day. It's that simple!
Behind this little activitiy, there's a little bit of science involved at well!
Advertisement
Draw chalk circles on an asphalt surface and label them with various point values. Have kids use a wet sponge and see who can get the highest score!
You could spend tons of money on videogames and other activities, but here's the thing about kids: sometimes, they have the most fun with the simplest things, especially when they get to be involved in the creative process.