A generous barber gives a homeless man a new look: he cries with happiness when faced with his transformation
Living on the street, without a roof over your head, a bed to sleep in or at least two hot meals guaranteed every day, can age anyone by many years. Perennially exposed to the weather and to the judgment of other people who, at times, can decide mercifully whether or not to donate a few pennies or coffee to someone less fortunate, you soon risk falling into depression. Josè Antonio was one of those poor unfortunates, who in fact, more than 30 years ago lost his job and ended up living on the street. Today his face looks older than he really is and his hair and beard have grown so much that his face is no longer recognizable. One fine day, a barber in the neighborhood, who saw Josè fighting every day for a piece of bread, decided to give him a gift.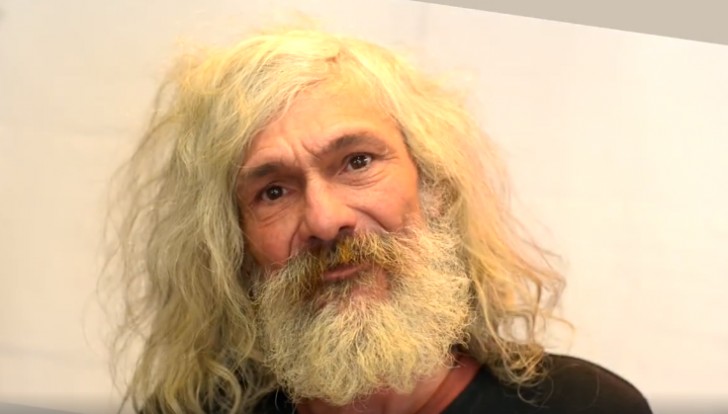 The barber who saw Jose in the street every day offered to change his look, thus allowing him to rediscover himself. The "radical" change included cutting his beard and hair, and brand new clothes. Josè willingly accepted the kind man's offer and within a day he found his appearance completely transformed.
Long white hair and an unkempt beard have given way to a trendy haircut and a very well-groomed beard. When Josè saw himself in the mirror, at the end of the restyling, he didn't believe his eyes: he began to cry tears of joy and, smiling, he asked himself if anyone would recognize him.
For the first time in many years, Josè felt alive again and considered by others. After so many years spent on the street, Josè can now look in the mirror again with new confidence. Everyone who remembered him was stunned by such a change and was very happy for him.
The barber who helped Josè also published a video on Facebook, bearing testimony to the transformation of the homeless man's look, in the hope of helping him find work. The good news is that an association dealing with homelessness has managed to get Josè off the street. For us, all that remains is to wish Josè good fortune going forward, in the hope that he will find the path he wants most.