This 6 year old already has a sculpted physique like an Olympic champion and wants to become a successful footballer
If you think there is a right age to join the gym and build muscle, well the answer is that there probably isn't; of course, when you are young it is really difficult to reach perfect gym fitness, yet there is a 6 year old Iranian child who with his consummate athlete physique has reached millions of followers all over the world and has earned a  privileged place  at the Liverpool FC Academy.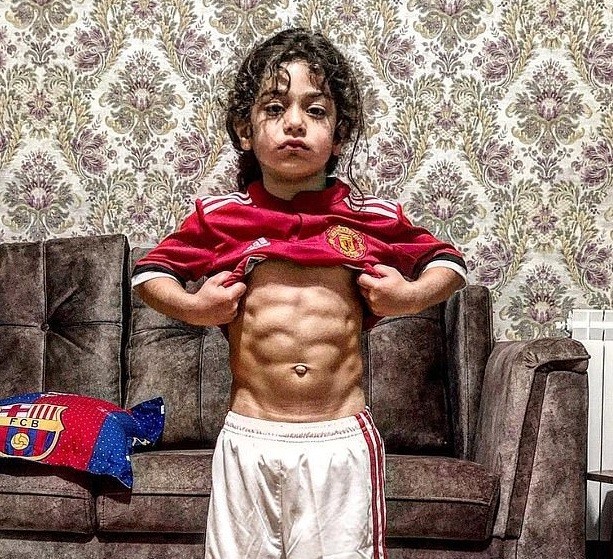 The 6-year-old boy is called Arat Hosseini. He was born and raised until he was to 5 years old in Iran with his family and then, after some economic difficulties, he moved with them to England. Now he lives in Liverpool, after each day he trains as if he were a great athlete; in fact, Arat has always been used to exercising together with his father Mohammed.
In fact, Mohammed trained his son Arat from the tender age of 9 months, and therefore it is not difficult to imagine how the child at only 6 years old managed to reach such a toned and trained physical form, that it really is the envy of professional athletes and footballers.
Mohammad says: "Arat wants to be the best player in the world. At the same time, we will provide him with the best education and training and we will take concrete steps in that direction." For this reason, the little boy immediately had a resounding success on the web, from the moment when his father, having been advised by his friends and acquaintances, opened an official Instagram channel where photos and videos of little Arat have been published and shared by more than 4 million followers.
When he was even younger, Arat trained at home for 20 minutes every 24 hours, a frequency and constancy that were the pass to undertake a career at the Liverpool FC Academy, to train constantly and become an extremely talented footballer in the future!
Dad Mohammed says: "When Arat was a child, he moved constantly and was always active. He started doing gymnastics even before I took him to a little club. He was very enthusiastic. He was five years old at the time and I encouraged him and I have been looking for better opportunities for him. He has always been passionate about sports.
He continues: "I talk to Arat about the positive responses we receive to his videos and tell him this to motivate him to achieve his goals. However, at the same time, it is very important to protect children from the negative aspects of social media. After all, he is still a child who is growing up and learning how education is very important to us. "
With his 4 million followers on Instagram, Arat has received the attention and praise of internationally renowned football players such as Lionel Messi and Cristiano Ronaldo, an additional incentive for the child to continue on the path to Olympic championship and a career in the world of football.
Ever since he started training with the Liverpool Academy, he has attracted interest from Arsenal, Manchester United and Barcelona, according to the Daily Mail.
A bright and brilliant future in the world of football awaits little Arat, and judging by how much he cares about his daily training and his already sculptural physique ... he deserves it all!