A heartless man smiles as he delivers his terrified dog to the kennel: luckily for the dog a new life begins
In the course of life it can happen that one finds oneself facing events that disrupt every habit. For example, a sudden transfer or a health problem can upset everyday life, to the point of radically changing your lifestyle and perhaps causing you to get rid of your 4-legged friends.
This separation, when provoked by causes of force majeure, is really painful, but this is not the case with the episode we are telling you about. In this situation, judging from the photographic evidence, the separation was not traumatic, at least for the human.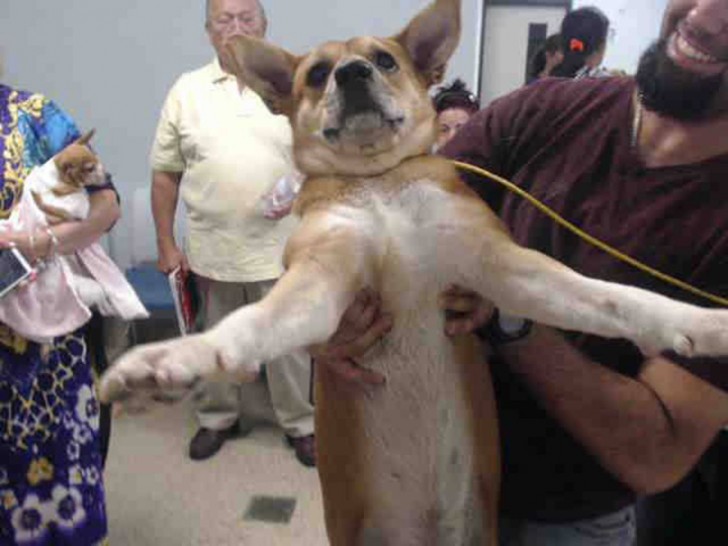 The image you see was taken in an animal shelter. The owner of this little dog had decided to discard it and entrust it to a charity: in the photo you can see the terrified animal carried by its human; the latter sports an ear-to-ear smile. Certainly not a photo that we humans should be proud of ...
Fortunately for the puppy, named Gordo, not all men are created equal. A good Samaritan in fact witnessed the scene and decided to take the animal, which seemed really distressed by the abandonment and being brought into an unknown environment.
This second photo, taken a few weeks later, shows him completely changed and "smiling". We really hope that his first owner will be able to see him and will be ashamed of his gesture.
FREEDOM FOR GORDO #A1888730 FROM MDAS: How disturbing is the photo on top? Let me illustrate. That was literally his...

Pubblicato da Paws 4 You su Mercoledì 9 agosto 2017
Update: As reported by the association, after some time Gordo found a family and has the love he deserves.