Animal shelter staff find an abandoned dog with a heartbreaking note: 'Love me, my mom is homeless, she can't keep me'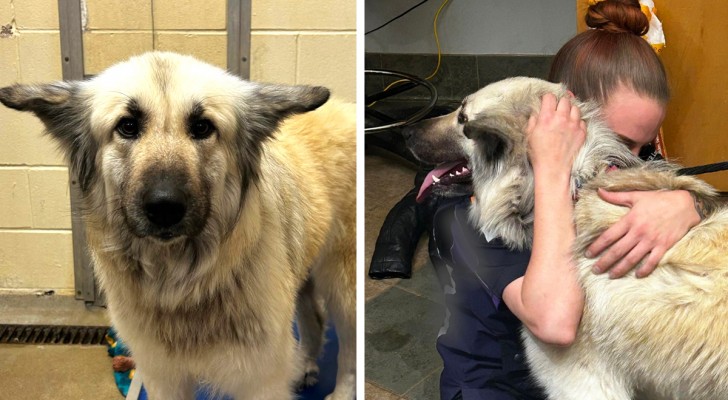 Advertisement
Anyone who chooses to have a dog in their life would never want to part with the pet under any circumstances. Unfortunately, however, there are more and more cases of pet owners in economic hardship that prevent a pet from being kept with dignity, and leads to abandonment. And this story is also a sad one about an animal being abandoned. But let's see in detail what happened.
via Facebook / McKameyAnimalCenter
Advertisement
Lilo is a big dog that was found by volunteers from the McKamey Animal Center in Tennessee (USA) and could be considered yet another case of pet abandonment, similar to many others, were it not for one small detail: the dog had still a leash and, most importantly, a note attached to it. The note was handwritten and broke the hearts of the shelter staff:
"My name is Lillo. Please love me. My mom can't keep me because she's homeless with 2 kids. She tried her best but she can't keep me. It cost her too much. She really loves me and I'm an amazing dog, who he loves to be loved. Please don't abuse me."
Another statement on the card read, "Please don't change my name."
The shelter staff were moved by the note, so much so that they decided to publish it on Facebook, together with a photo of the dog, to let the woman know that her dog was fine:
"We are so sorry you had to make the decision to abandon Lilo. We know that many people are struggling to care for their pets. We know how difficult it must be to give up a pet you loved so much because you cannot provide the care it needs. We understand. We want you to know that she is safe and that we will take the utmost care of her," the shelter wrote on the page. "She will be loved by our staff and volunteers, we will keep her name and promise we will do our best to find her a wonderful new home. But if you are reading this, we hope you will step forward to reclaim her. You need to try to take care of her, to the best of your ability. Lilo definitely misses you and we would love to see her returned to the family she loves. Either way, know that we understand your position and we don't judge you. We're here to help you in any way we can," concludes the message from the shelter.
Advertisement
Social networks have once again proved to be a powerful connection tool, given that Lilo's "mother" has been tracked down. The woman and her dog were able to hug each other again and the shelter volunteers pledged to offer all their support to the woman, so that Lilo can stay with her. Unfortunately, not all stories like Lilo's have a happy ending, but we are very happy that this dog can return to live with her family.