Today is my last chemo treatment": a 9-year-old boy beats his battle with cancer and shares his happiness with the rest of the world.
Battling something as life-threatening as cancer is not an easy feat for anyone. The chemotherapy alone is enough to make even the toughest person feel weak and discouraged. 
If it's this difficult for adults to handle, think about how hard it is on a 9-year-old boy. This 9-year-old's name is Josafat and two years ago, he was diagnosed with liver cancer. Fortunately, Josafat's two-year battle with cancer has finally come to end. Before his last chemo treatment, his doctors were happy to inform Josafat and his family that he beat cancer.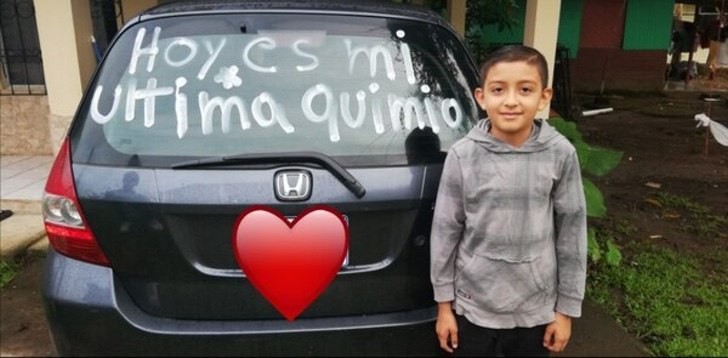 Josafat lives with his family in Costa Rica, where he has been treated by doctors who work for National Children's Hospital. He's had 21 months of intense chemo therapy and, just celebrated his last chemo treatment with his family. For starters, they wrote on the back window of their car "Today is my last day of chemo," so that everyone they passed on the road (to and from the hospital) could congratulate little Josafat.
For the entire car ride to and from the hospital, drivers everywhere honked and waved at Josafat and his family. They were all so happy to see that he beat cancer and that this would be his last chemo treatment. This, of course, made Josafat even more happy, because he knew that everyone was honking for him.
It seems as through many people were moved by the message on the family's car, and it didn't take long before images of the car were shared on social media. In an interview, Josafat's father, Jairo, shared how difficult Josafat's battle with cancer has been.
Jairo has been by Josafat's side ever since his first first chemo treatment. At first, they weren't able to pinpoint where the cancer exactly was, which caused it to grow a lot in the beginning. As Josafat went to more chemo treatments, however, the cancer fortunately became more manageable and Josafat's chances of survival became better and better. Now, Josafat's cancer is completely in remission and he can go back to leading a normal life. Way to go, Josafat! You've been so brave, now enjoy your childhood!