Women who have chosen to no longer dye and proudly show their gray hair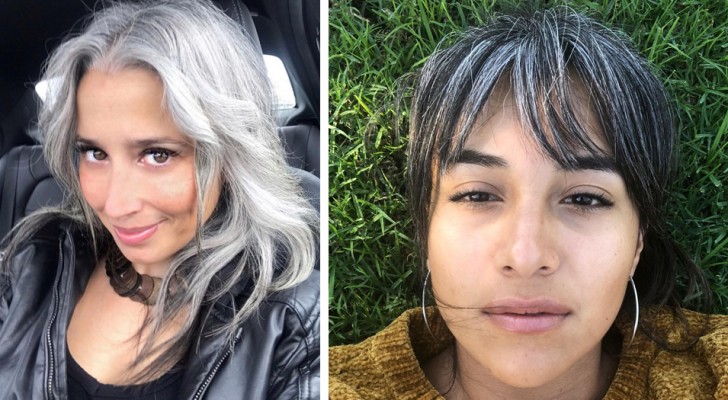 Advertisement
In a society like today's, where images and appearances prevail over any form of content and any flash of intelligence, it is almost "strange" to see on Instagram - a means of conveying a little about everything you want to believe - how many women choose to let their hair grow without coloring it. In a world where you get used to constantly seeing haircuts associated with the most bizarre colors, there are many women who willingly give up having hair like the mane of a unicorn and prefer to keep their natural color: variations of gray and white.
Advertisement
The Grombre account on Instagram has created a special channel where it brings together the photos of many women who "boldly" gave us a cut without the tint. Many of these women said they felt more "authentic" without having to dye their hair every month - a not exactly healthy practice, as well as tiring and repetitive.
Advertisement
Every woman on Earth today finds herself having to live according to certain standards of beauty imposed from above which, if they are not respected to the nth degree, cause a strong sense of unease. The reason why you go to the beautician, the hairdresser, and buy make-up, fashionable clothes and whatever else is the trend of the moment.
Obviously, this is not the case for everyone, since not everyone feels tied to certain standards. It must also be considered that beyond any social impositions, a woman is free to put on makeup or go to the hairdresser whenever she wants, if it makes her feel better.
Going to the hairdresser every month, then, is a type of life with rather high standards, both in terms of costs and time. Making an appointment and spending 2-3 hours at the hairdresser is not a walk in the park and many women are very busy during the week. One more reason then to let yourself go to natural and find your true self.
In many cases, showing the first signs of white hair at a young age is a family trait.
Having white hair at the age of 20-30 is not something to be ashamed of at all, quite the contrary. It could be a way to feel "freer" and find that unique feature that unites you to your own relatives.
Advertisement
How long have you been dying your hair? Have you ever considered stopping and returning to your natural color?
Advertisement