In memory of her beloved lost child, a woman paid for a stranger's daughter's birthday cake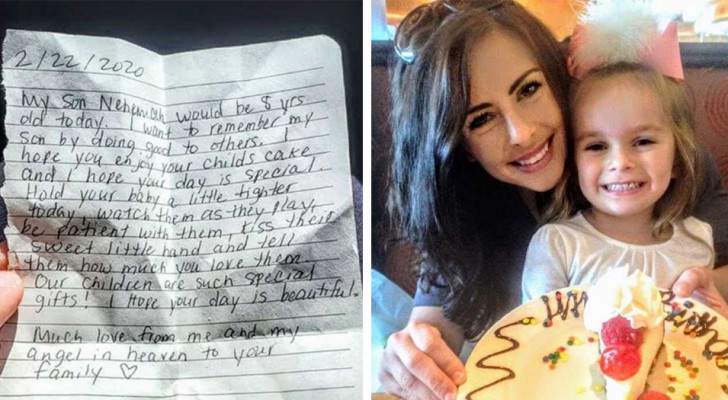 Advertisement
It's the small gestures in life, especially those you least expect, that show us why we should never take anything for granted. We might not always like our job or get along with our friends or family, but it's good to know that they are there for us when we really need them. That's why it's so important to show the people we love - at least every now and then - how much we care about them. It's the lesson that the mom in this particular story learned, when she received an unexpected surprise from a total stranger. Thanks to their kindness, and the touching note left with the gift, she learned how important cherishing each moment with her daughter actually is.
Advertisement
It all started when Holly Grimet went to pick up a birthday cake for her daughter at a local pastry shop. Her daughter was turning 8 years old and what better way is there to celebrate than with a cake? At first, nothing seemed out of the ordinary. When she asked to pay for the cake, however, the woman at the counter smiled and informed her that someone had already taken care of it; they also had left a note for her to read. Baffled buy the strangers generosity, she read the note immediately and couldn't believe what it said:
"My son Nehemiah would have turned 8 years old today," the letter began, "I want to remember my son by doing good to others. I hope you enjoy your child's cake and I hope your day is special."
Advertisement
"Hold your baby a little tighter today, watch them as they play, be patient with them, kiss their sweet little hand and tell them how much you love them. Our children are such special gifts! I hope your day is beautiful. Much love from me and my angel in heaven to your family" - these are the last lines of the touching note she left for Holly to read.
Holly was so moved by the stranger's words that she immediately "paid it foward" and offered to pay for someone else's birthday cake. By doing so, she was able to keep the stranger's act of kindness going and let someone else experience the same joy she just felt. Surely, a story like this one deserves to be told. It reminds us that we should be thankful for what we have and never take anything - or anyone - in our lives for granted.
Advertisement