A husband and wife had a giant bed built to sleep with their 8 dogs rescued from the street
You have no idea how high the number of animals abandoned on the streets around the world is—pets without shelter or a loving family and forced into a life of homelessness.
But there are angels with a heart of gold in the world who do everything to save these abandoned pets and give them a dignified life and all the love they need.
Such as this couple who have built a giant bed for the rather large number of stray dogs they have saved from the streets.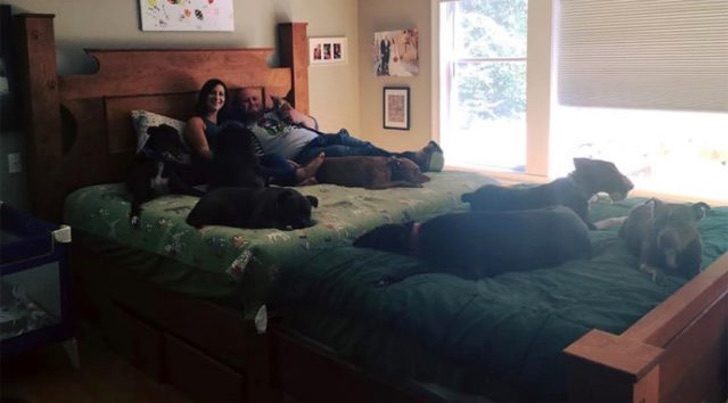 Chris and Marisea Hughes have always been passionate dog lovers and since they have been together as a couple, they have saved eight stray dogs from the streets.
However, over time the space inside their house has become less and less for their four-legged friends. So, they decided to asked their friend who is a carpenter to make a giant bed that could accommodate them all!
Chris and Marisea asked carpenter Mike Ford to build a wooden bed that facilitated the general well-being and rest and relaxation of the eight dogs in their house—and after six months of work, Mike delivered his creation ...
A giant wooden bed! The Hughes couple was also pleasantly surprised to see that the giant bed has a very useful wooden staircase that allows their four-legged friends to easily climb up onto the bed and snuggle together.
Having eight stray dogs saved from the street at home is not easy, but Chris and Marisea's willpower and passionate tenacity have shown that nothing is impossible - and that the available space in their house can be adapted to the needs of their canine friends.
Moreover, all that was needed was a fantastic giant wooden bed large enough to accommodate them all!