In this heartwarming video, a young boy sings a song to his little baby brother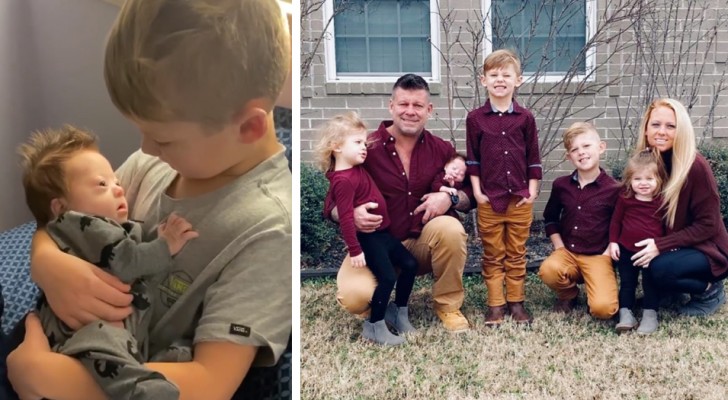 Advertisement
To love someone unconditionally is probably among the most beautiful gifts that can be given to another person.
Little Tripp was born in a world in which some people would consider him to "different" - those born with an extra chromosome, so to speak, commonly known as Down syndrome.
And although he is different physically, still, like every newborn baby, little Tripp needs a lot of love and care which is the most important thing in his life.
Of course, his whole family and including his older brothers, Jayce and Rayce, make sure that little Tripp feels loved and cared for.
Moreover, little Tripp's young siblings completely understand Tripp's condition, since it has been explained to them by their parents.
In fact, Jayce designed and made his own personalized sticker to attach to his bicycle to welcome the newborn baby into the family, while Rayce was filmed in a short and charming video while singing a song to his little baby brother.
Advertisement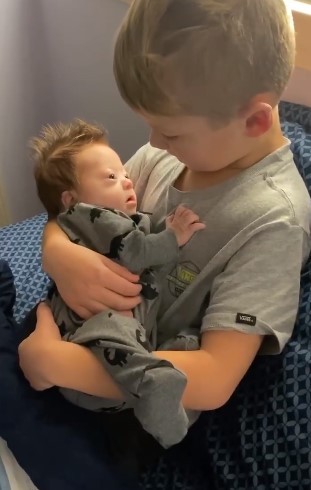 Rayce often likes to sing to his little baby brother and the video that mom Nicole posted on her Facebook profile in December 2019 is the proof.
The little boy was filmed by his mother while he was singing the song "10,000 Hours" by Dan + Shay and Justin Bieber.
"It's the way Rayce bonds with Tripp—and he always sings about it. He swears this song is about him and his little brother," commented his mother, Nicole.
Advertisement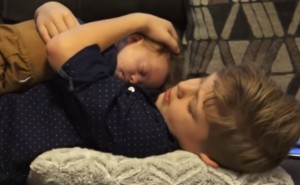 While Rayce fondly looks at his little baby brother and sings the song lyrics, it seems that every single word was written for that little baby that he is holding in his arms:

"I would spend 10,000 hours and another 10,000 more if that's what it takes to learn about your sweet heart. I may never reach it, but I'll try and if I have to spend 10,000 hours or the rest of my life, I will do it and I will love you", are some of the words from this famous song.
The parents, JJ Grieves and Nicole Powell are both from Arkansas and learned that their fifth child would have Down Syndrome while Nicole was pregnant.
Doctors clearly told the parents that their baby's quality of life would suffer and recommended that they terminate the pregnancy.
But neither JJ nor Nicole ever considered that option, not even for a second. "It's the same as for all of us," said JJ. "It will only take him a little more time to learn, maybe he will need a little more attention, and a little more love ... but isn't that what the whole world needs?"
Advertisement