A boy who is color blind sees colors for the first time thanks to the help of his school principal
Often, a simple gesture is enough to make a person happy and improve their day.
Especially when it comes to those who are less fortunate or those who have to live daily with disabilities or disabling diseases, to help, even a little, means demonstrating altruism and empathy, qualities that should never be neglected.
Fortunately, Scott Hanson, the principal of Lakeview High School, in Minnesota, where 12-year-old Jonathan Jones, a boy diagnosed with color blindness goes to school, is well aware of this.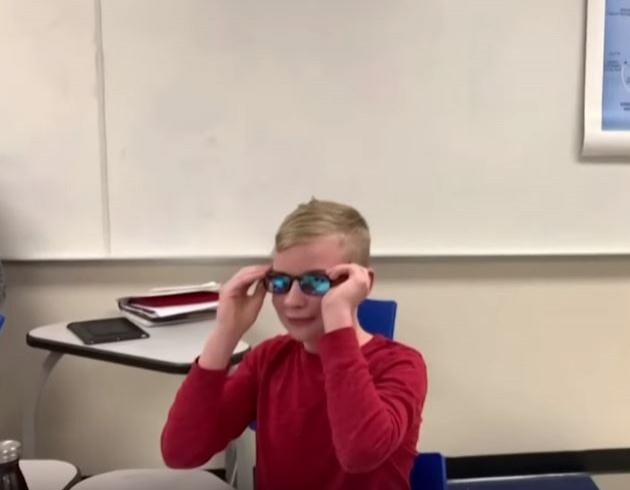 Being affected by this visual impairment is a rather debilitating condition that affects millions of people around the world and does not allow them to live a normal everyday life, that risks making some of those affected feel different and excluded.
Not being able to distinguish colors, especially for a young boy like Jonathan, can often make a child feel discouraged.
So the principal, aware of all this and also being color blind himself, decided to let the young student have an experience that he will not easily forget.
During a class lesson, the principal addressed the boy directly, inviting him to use the principal's own special glasses for colorblind people, called Enchroma.
Enthusiastic, the boy immediately put them on, and he began to experiment for the very first time what it means to distinguish the colors of what is in the environment surrounds us.
His reaction, captured on video by the boy's older brother, describes better than a thousand words what Jonathan felt. In fact, the 12-year-old could not hold back his tears as he looked at objects and people around him and saw them in a whole new way.
The video, shared on Twitter, was seen by many users on the Internet in a short time, thrilling many who saw the young boy's reaction. Jonathan's mother was also bombarded with offers of help from individuals who wanted to help her son get a pair of color-blind glasses.
My little brother is severely colorblind and so is his principle at school. While they were learning about colorblindness in class, his principle brought in some glasses that let him see color for the first time, and he was very emotional. Check it out: pic.twitter.com/LQhAND9RJq

— Ben Jones (@BenJones_5) 21 novembre 2019
Principal Hanson, in this regard, has declared that he wants to commit himself to making the life of colorblind children attending his school easier.
Furthermore, thanks to GoFundMe, Jonathan's mother has activated an account through which it is possible to make donations for children who are color blind and cannot afford to buy these special glasses.
Here we have another story of generosity and altruism, which shows how in the world there a lot of people who really care about the well-being of others, and who are willing to try, with the means at their disposal, to improve their lives.