These photos from all around the world show us how the world is full of surprises
Despite having access to the Internet and a vast amount of information about the past and the present, and even about the future, if we think that now we know every aspect concerning the planet on which we live, then we would be wrong.
As a matter of fact, these unique and unrepeatable captured images from various nations are visual proof that our common home, the planet Earth, and the people who inhabit it will never cease to surprise us, both positively and negatively.
Are you ready for this gallery of images that will leave you sometimes amused, astonished, or touched, but always favorably impressed?
In Indonesia, the children in a village took off their shoes so as not to ruin the new asphalt on a road. They had never seen asphalt before!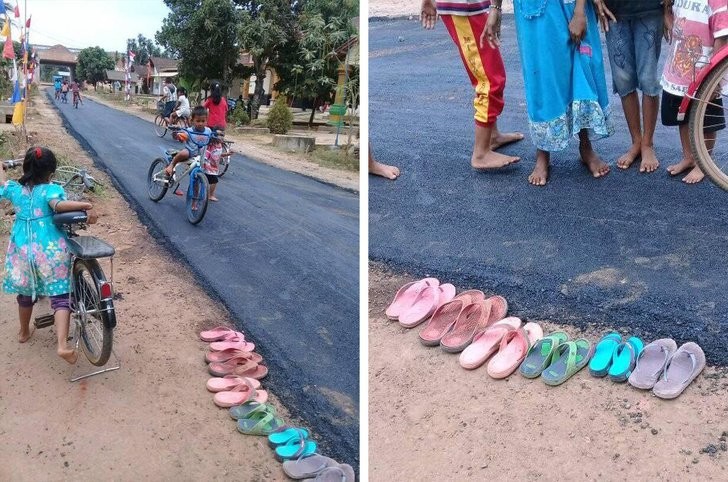 After 72 years, some prisoners who survived the horrors of Auschwitz meet again and proudly show the tattoo that they had been marked with years before.
At a heavy metal music festival in Spain, Alex was literally raised up above the crowd in his wheelchair by his companions. Music belongs to everyone!
This Taiwanese child has climbed a 12,00 ft (4000m) mountain in honor of his dead mother. So that he can be closer to her.
This paramedic saved a man from a burning car and then discovered that the man he had saved was the doctor that had saved him when he was born prematurely!
At Max and Lydia's wedding, many butterflies were flown in honor of the future husband's deceased sister. For the entire duration of the ceremony, the butterflies never left the wedding guests.
A powerful and moving monument in memory of the victims of the First World War in Hungary.
A intrepid mother who has successfully passed her first cycle of chemotherapy!
This dog still appears on Google Maps satellites, yet unfortunately, it died seven years ago.
A group of dogs being trained to become therapy dogs for people with disabilities are patiently aligned in this movie theater. They behave much better than many humans!
A Manila beach in the Philippines that is particularly ... polluted!
A moving photo collage for a soldier on a mission who cannot be by his pregnant wife's side.
Although it can be clearly seen that this female dog has had her own misfortunes, nevertheless, she is now a therapy dog and ready to help others!
The world is truly a place of endless surprises and wonders, isn't it?