Before and after! 20 hilarious photos of children on their first day of school after summer vacation!
Admittedly, for many, the first day of school after summer vacation has always been a traumatic experience.
After months of tranquility, light-heartedness, vacations, flexible hours, and no one planning our days, many children just do not want to anything to do with going back to sitting at their school desks attending classes.
Of course, it is also true that many other students go back to school willingly, driven by the happiness of seeing their classmates again and being able to live new experiences.
In general, however, that first day back at school is not always synonymous with celebration, and not all children and young people are 100% ready to face it.
Therefore, from the initial enthusiasm and smiles that they have before the first bell rings, they quickly arrive at total exhaustion and sulking after being completely floored by the new commitments and rules they must now respect.
The photos we show here below illustrate exactly this! We clearly see the passage from the before to the very hilarious after, from hopeful happiness to exasperated fatigue!
Have fun seeing the amusing reactions and transformations of these delightful little students!
1.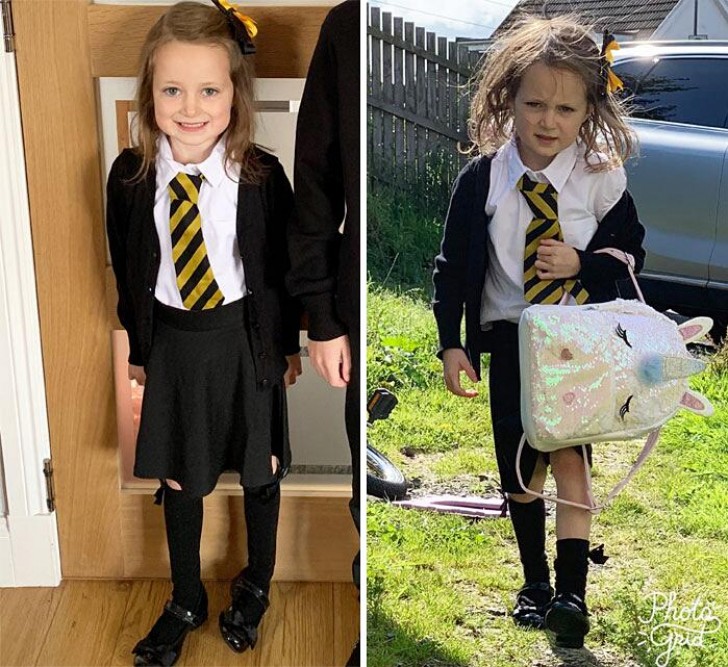 2.
3.
4.
5.
6.
7.
8.
9.
10.
11.
12.
13.
14.
15.
16.
17.
18.
19.
20.