A young man with Down syndrome risked his life to save two strangers, refusing to remain indifferent
Courage has no gender, race, religion, or political ideology, nor does it allow itself to be stopped by a disability. Helping others is a natural instinct but it more strongly developed in some people than in others.
In fact, it is not uncommon in emergency situations, when someone needs help, that the most common reaction is to pretend as if nothing is happening, to turn the other way, and mind one's own business.
Fortunately, there are those who choose to make a difference, one of these is a young Italian man named Valerio Catoia, a rather "special" hero.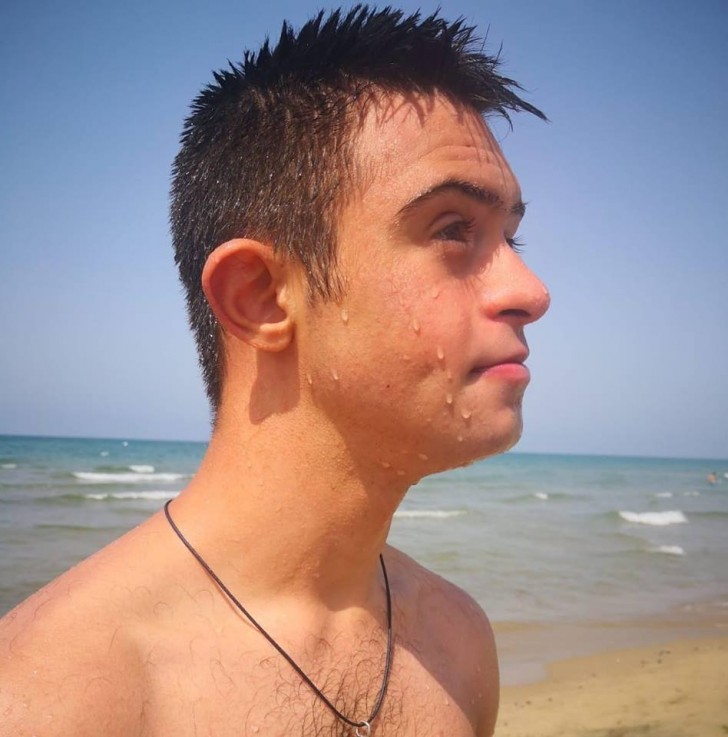 The young man with Down syndrome was awarded in March 2018, a Certificate of Honor, namely the "Alfiere della Repubblica Italiana ("Bishop of the Italian Republic") for his admirable altruism.
The incident in question dates back to July 2017, when Valerio was on the beach in Sabaudia, a seaside town on the coast of Lazio near Rome, together with his father enjoying a normal day of sun and sea.
Suddenly, they heard the sounds of screams coming from two sisters aged 10 and 14 who were screaming for help because the sea current was carrying them away.
Without hesitating even for a moment, Valerio threw himself into the water and was able to reach the youngest girl, while his father carried the other girl to safety.
Valerio is an excellent swimmer, in fact, after years of training, he was able to participate in the Special Swimming Olympics, the world's largest sports organization for children and adults with intellectual disabilities and physical disabilities. Therefore, by putting into practice the maneuvers, he had learned while attending a rescue course, Valerio managed to bring the young girl safely back to shore.
Meanwhile, his dad had recovered the older sister. The beach lifeguards arrived immediately but luckily Valerio and his father had already averted the danger, putting their own lives at risk to save that of the two young girls.
News about Valerio's extraordinary gesture has gone viral around the world, touching the hearts of many people and making them think about what it means to be "normal".
For the boy, who was just 17 years old at the time, doing his part in a time of need by immediately going to rescue someone who he did not even know, was absolutely "normal".
A life lesson that many should take as an example, namely, that of letting the first instinct of protection towards others always prevail over fear and mistrust. Just remember, when someone needs help, that the person could be us.