When using a public bathroom, covering the tablet with toilet paper is practically useless
In regards to public toilets, each of us has our own habits. As much as we try to avoid them, sometimes we find ourselves having to use them.
In fact, our parents taught us when we were children the basic hygiene rules that need to be followed when using a public toilet, which are probably the same ones that we are still implementing today.
Nevertheless, public toilets, although cleaned frequently, are used by many people and this is what makes them "dangerous". To avoid unpleasant consequences, some people have the habit of using a public toilet after covering the toilet seat with toilet paper and then sitting on it.
Apparently, this practice is a very bad one! Not only is it not an effective barrier against bacteria, but it seems that toilet paper itself is like a petri dish of bacteria!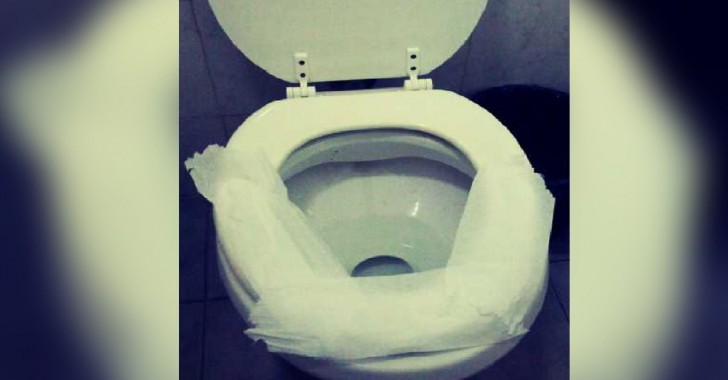 Public toilets are literally "infested" with bacteria! This is because bacteria can be spread in the air when a toilet is flushed and also by the air-dryers. Thanks to the flow of air, the germs are deposited on walls, doors, and ... on toilet paper!
Covering the toilet seat with toilet paper, as a result, is completely useless because not only is toilet paper not an effective barrier against bacteria but is itself covered with bacteria. Covering the toilet seat with toilet paper and then sitting on something that could be even dirtier is complete nonsense.
In public toilets, you must avoid any contact with your private parts and this means being able to "do it standing up". In addition to this golden rule, there are others that it would be good to follow.
For example: Never touch the door handles and avoid the use of air-dryers! The first are among the most contaminated objects in a bathroom, while the latter generates a powerful flow of air that spreads the bacteria around the room. Using it means that you get covered with bacteria!