A 22-week premature baby is "refused" by 16 hospitals ... after 5 months they will understand that they all made a big mistake
That moment in which we discover to be expecting a child is almost impossible not to find yourself immediately in "seventh heaven".
However, discovering that something will almost certainly go wrong can painfully bring you back to the reality of the facts.
This is probably what this couple of young parents felt when they discovered while expecting their second child and was told that the baby would be born with a very low percentage of life expectancy ...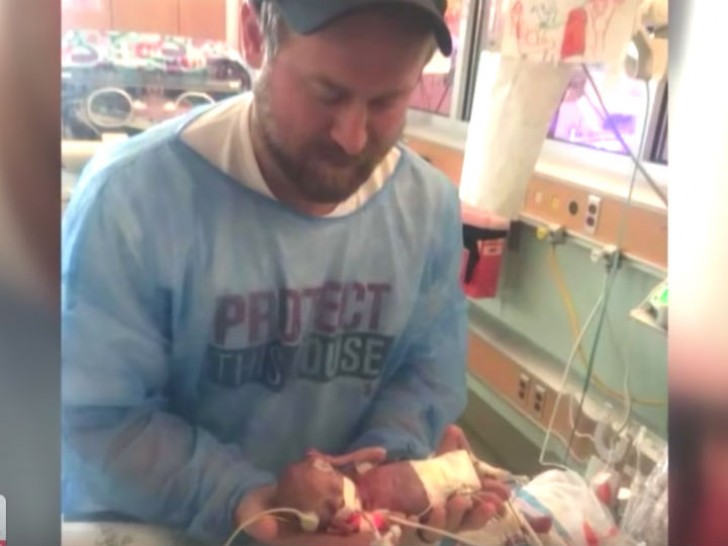 Robert and Molly Potter are two young parents who have recently become famous on the Internet, for their particular story began with the premature birth of their child.
Little Cullen decided to come into the world at just 22 weeks which is long before the standard 40 weeks, which would have posed a very high risk to the health of the child. The life expectancy given to the child was in fact only 2%, but that did not discourage his parents, who were sure that their child would make it.
However, what made this situation even more difficult was the very high probability that the child would be born disabled and that, having been born before 24 weeks, most hospitals could refuse admission and not give medical treatment to the child.
The willpower of Cullen's father Robert and mother Molly, however, did not fail even in the face of this appalling news. As many as 16 hospitals contacted by the father in three different states, and they all said "no", until finally, one hospital responded with that fateful "yes". The hospital located at the University of Southern Alabama, in Mobile, in the homonymous county, gave its consent to provide the care necessary for the child to be able to try to survive.

This hospital was able to take care of Mom and little Cullen, showing all 16 hospitals how wrong they were in reality. For the occasion, Cullen's mother bought him a small graduation gown, to celebrate a symbolic ceremony inside the hospital ward together with the doctors and nurses.
The story has obviously gone viral on the Internet and has moved thousands of people who have been rooting for Cullen. At the end of the article, you can find a video that summarizes the whole family history with images of the symbolic graduation celebration.