Before flying away, a giant condor thanks its savior and the video is especially touching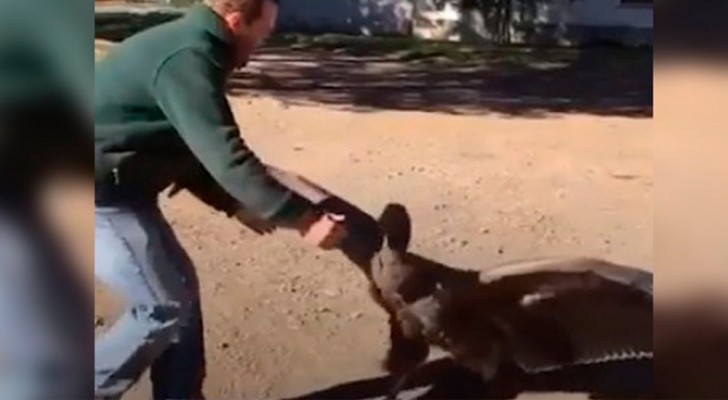 Advertisement
We have often talked about the loyalty, faithfulness, and gratitude that a dog can give you in the course of life.
This story, unlike other times, is not about saving a helpless and abandoned puppy, but rather it is about an Andean condor that was rescued and saved notwithstanding a serious foot injury.
The scene that portrays the huge condor's gratitude towards its rescuer has made the rounds on the Internet, and it is worth taking a moment to admire the tenderness of a gesture that is definitely not seen every day.
Advertisement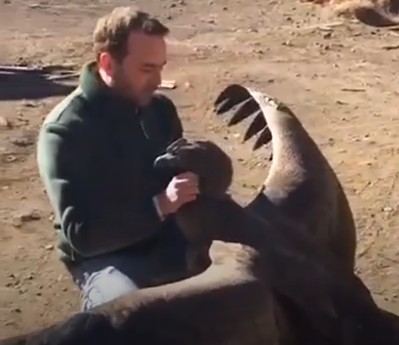 FM DaLe! Venado Tuerto/Facebook
Animals can be loyal and grateful and whoever says they cannot feel emotion is actually saying something that is very wrong. An example of this is the story of this Andean condor, a species of condor typically found in South America, particularly in the Andes mountain range area. This huge bird, one of the largest especially in regards to its wingspan, demonstrates a great deal of gratitude and affection for a man who saved it from a bad foot injury.

The bird was found by its rescuer in the province of Neuquen, in Argentina, with a painful foot injury that prevented it from taking flight. The man struck by the scene decided to take the animal into his custody and to take care of it until it had completely recovered, and then he decided without hesitation to let the condor go free, and naturally, the condor flew away.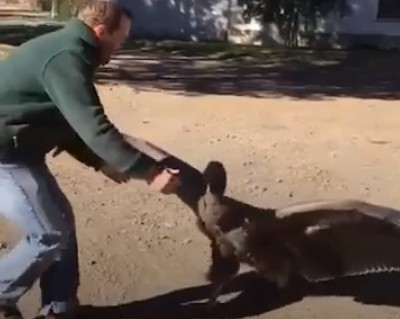 FM DaLe! Venado Tuerto/Facebook
However, from that moment on, the condor has not forgotten the kind actions of its rescuer, so much so that it comes back to greet and thank its rescuer affectionately whenever it has the opportunity. As you can see from the video, the bond that has been established between the two is very strong, and it is very touching to see how a wild animal whose wingspan can exceed 9 feet (3 meters), allows itself to be hugged and caressed by a human being.
The affection that this huge bird feels for its savior is well documented in this video that has been seen around the world collecting millions of views. We leave you then, to see the video posted on Facebook that has captured on film the moving embrace between the two friends!