If you see a dog with a yellow bow you shouldn't get close: It means that it needs its space
Loving dogs means being able to respect them in their individuality and in their needs, which may very well be different for each dog.
In fact, like people, every dog has a specific character and needs, which must be taken into account, not only for the good of the animal but also for that of the people around them.
If obviously, the owners know their four-legged friends very well, this cannot be said of the strangers they meet on the street and that is why this useful "yellow ribbon bow" initiative was born.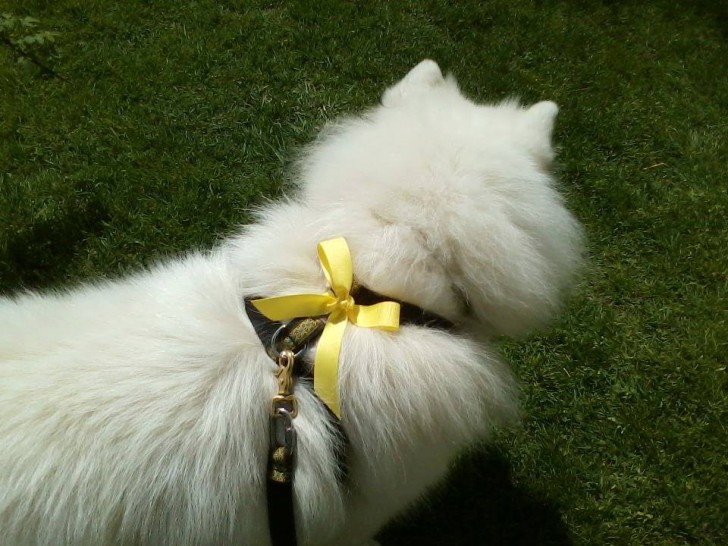 If walking through a park you happen to see a dog with a yellow ribbon attached to its neck or leash, do not be alarmed, but also do not move toward the dog to satisfy your impulse to caress it! In fact, the yellow ribbon indicates that the dog needs space, and it is necessary therefore to treat it with caution.

The idea is promoted by The Yellow Dog project, which is a global movement that aims to educate people in identifying dogs in need of space.
Who are the dogs in need of space?
It is not about aggressive animals, but rather dogs that are particularly fearful, or who are in pain due to recent surgery; rescued or animal shelter dogs that have not yet completed their training; or that they are a service dog; or simply dogs that overcome by too much enthusiasm could jump up on you.

The reasons why it is necessary to respect a dog's space can be multiple. Therefore, it is easier to say what the Yellow Dog project does NOT stand for. Consequently, here is a comprehensive list.
Many dog ​​owners have started to put a yellow ribbon bow around their dog's neck or leash.
What do you do if you see a dog with a yellow ribbon bow?
It is not necessary to run away or change your path, in fact, the yellow ribbon is a kind of signal, an invitation to pay attention. So it is better to simply move with caution, without invading the dog's or the owner's space.
Often the owners are very happy to explain the origin of that yellow ribbon bow and the special needs of their furry friend; and just as often the same dog "identified" by the yellow ribbon likes to be cuddled and played with, even by strangers.
On the project website, you will also find useful instructions and advice to meet and manage the special needs of your dog, such as training manuals, tips to help the dog overcome its fears, and much more.
These initiatives are important precisely because they prevent an erroneous perception of this type of dog, which could make them even more nervous or scared.
It is therefore essential to share these types of proposals, to contribute to their success - and to the well-being of both dogs and humans!