24 unusual scenes that are worth seeing at least once in a lifetime!
This is the entrance way to a swimming pool designed for people who use a wheelchair. Have you ever seen one?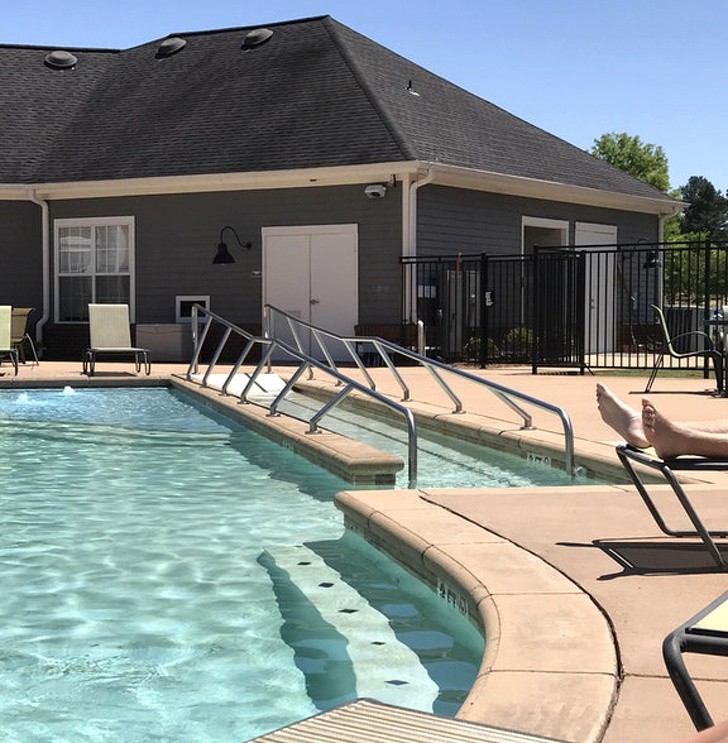 Here is a really brilliant way to stack wood!
A little blue marlin.
Spiral directing drain ... That's cute!
This city is so small that people have put up signs for the individual houses with the names of their owners.
An abandoned fishing village in Houtouwan, an island that faces the city of Shanghai.
This tree survived the atomic bomb dropped on Hiroshima.
The way in which this fallen tree has grown will make you suspect a graft!
In the morning my cat always takes a walk and over time he has created a real path!
What has this tree swallowed?!?
 Wood or paper?
The anteater uses its own tail as a "blanket".
Try to guess what it is ...
Apples with the shape of a heart on the peel is just what we were missing!
An airplane fleeing from a sandstorm.
The wonders of perspective.
The speed with which it cleans the floor gives satisfaction just by watching!
See what happens to this marshmallow ...
An ancient example of prosthetics.
Bivalve molluscs in action!
How do you get a sphere-shaped hedge? Here the "trick" is revealed!
The entrance to the beautiful Royal Ontario Museum in Toronto.
One group of stairs steps at the University of Balamand, Lebanon.
A spotted horse incredibly similar to a Dalmatian dog!