13 examples that prove that for love people will do anything!
Often, on the occasion of parties, birthdays, and anniversaries, couples find themselves having to think about what gift to give to their partner.
Most of them go to a thousand stores and shopping centers to find the right object, while others manage to amaze their partner without even leaving the house.
How do they do that? They choose to do something worthwhile, that has value, not an economic value, but rather a sentimental value, that is able to express their feelings better than any other gift.
Specifically, this article will talk about the times when husbands or boyfriends have amazed their companions, with gestures that they would never have expected ...
This boy has covered his girlfriend's entire bedroom with about 7000 post-its and on each one he has written a memory related to their relationship.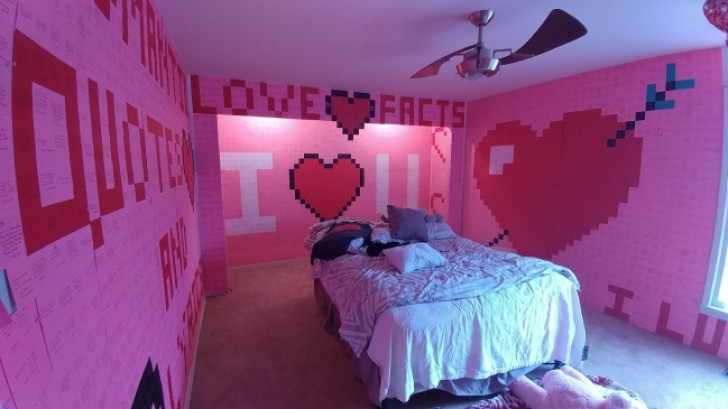 For their wedding anniversary, he learned the art of origami and created a bouquet of flowers for her.
His wife wanted to create a small area just for herself in this specific area of the house and taking advantage of her absence, her husband created it for her!
This husband, with a passion for the art of woodworking, has created a wooden box organizer for his wife's makeup products and brushes.
To make her smile in the morning, he replaced the bathroom scales number disk with one containing only compliments.
He has prepared everything that she needs for a very relaxing bath.
He made her the bracelet that he had dreamed of, but he could not find anywhere.
This husband has distributed in the most unthinkable places, cardboard cutout figures of Snoopy, to make his wife who loves this character, smile.
He has imitated the luxurious dinner of a restaurant that they cannot afford to pay.
For St. Valentine's Day, he gave her a pendant on which the map of the place where they met and the one where they live now were recreated --- each of them wears one half of the pendant.
They could not afford a real fireplace, so he created a fake one, but it warms the heart just like a real one.
The best evening together? A haven for them with their favorite TV series.
"In the "365 jar" there are three hundred and sixty-five handwritten notes and each color corresponds to a theme. Every day, for the next year, you can read one to (in theory) start off the day in a good mood!"