15 examples of things that are possible only when temperatures dip below freezing!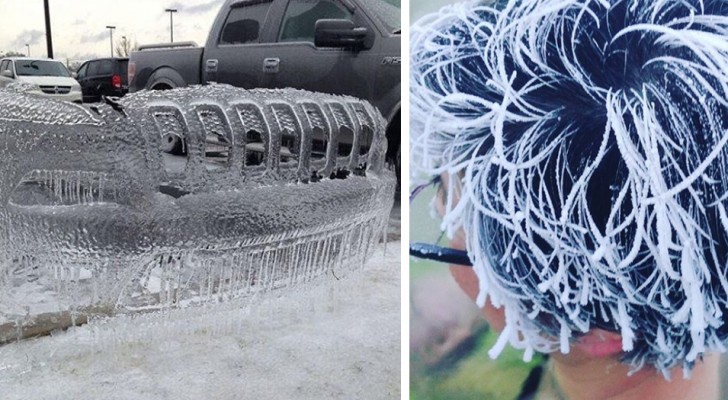 Advertisement
Going out of the house when there is a polar freeze is not something that most people find pleasure in doing, but the fact that even winter brings us unique and unforgettable scenes is impossible to deny!
We are not just talking about the classic snow-covered landscapes, but of many situations that are created precisely because the outside temperature drops suddenly down to freezing!
When that happens, it makes things like watching a waterfall, without being dragged away by the current possible because the waterfall is completely frozen!
But we will let you discover this awe-inspiring beauty one photo at a time ...
Advertisement
Winter is that time of the year when you risk finding your car locked in a cage of ice in the morning!
Advertisement
Frozen boats in Lake Geneva (Switzerland).
Flowers set in the ice!
The shores of a frozen lake near Devil's Lake (North Dakota).
What happens if you throw hot water into the air in an environment several degrees below zero?
Advertisement
A beautiful icy wave!
Have you ever made soap bubbles outdoors in the middle of winter? This is what happens to them!
Advertisement
An icy waterfall in a canyon in Utah!
This is a lake in Alberta, Canada, and the shapes you see inside the lake are sheets and layers of ice! Spectacular!
Advertisement
At the Takhini Hot Springs in Canada, if you go for a swim in the winter, your hair will immediately become coated with ice when you leave the hot spring pool!
The eternal magic of Central Park in New York City.
Advertisement
Surfing in a lake in Michigan at freezing temperatures is possible but know that you'll end up like this!
A charming (and quite icy) Finnish winter landscape!
Instagram/ visit_savukoski_korvatunturi
Advertisement
The frozen waterfalls near the town of Eiby in northern Norway!
Finally, here in this video is a clear explanation why you should never park your car near a lake when there is a storm and temperatures are very low ...
Advertisement