31 black and white photos that bring fascinating historical details to life
Activists show how to behave in the event of a nuclear attack (Hamburg, 1963)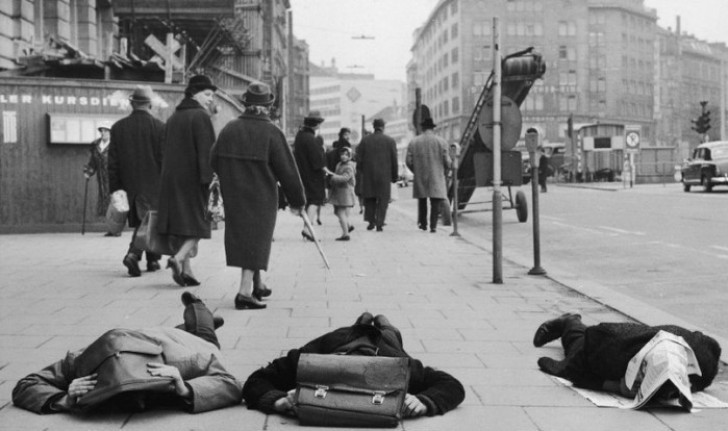 "If Russia were to win many Americans would be sterilized" (American posters during the Cold War)
Helena Bonham Carter (actress) and Tim Burton's wife (1989)
Young Beatles --- George Harrison - 14, Paul McCartney - 15 and John Lennon - 16 years old ... (1957)
Alain Delon in 1950
Alfred Hitchcock playing with his grandchildren (1960)
The U.S. Airforce pilot major Dewey Wayne Waddell is captured in Vietnam (1967)
Arnold Schwarzenegger walking on the streets of Munich (Germany) to encourage others to take up bodybuilding
A former prisoner in a concentration camp targets the rifle against a Nazi soldier
At a wool spinning factory in Moscow (1967)
Jim Carrey and Morgan Freeman on the set of the movie "Bruce Almighty" (2003)
Dawn French, Rowan Atkinson, Hugh Laurie e Stephen Fry (1980)
Dubai as it appeared in 1965
Two North and South Vietnam women who survived the war rejoice at the unification of their country. (1975)
Meeting of the Masonic Lodge in Arizona (USA) in 1897
Coca-Cola arrives in France (1950) "Are you really going to drink this ?!"
Leonardo Di Caprio with his parents (1970)
Lee Harvey Oswald, the one who is thought to have killed John F. Kennedy (1963)
Michael Jackson with a Zenit camera (1972)
The actress Marisa Allasio with a group of seminarians admirers of her work. (Rome, 1955)
A very young Mahatma Gandhi (1887)
Murmansk (Russia) after German bombing ( 1942)
The famous flood in Paris (1924)
German air raid on Moscow (1941)
The end of Prohibition in the USA (1933)
Audrey Hepburn shopping in a supermarket with her pet deer in Beverly Hills (USA) in 1958.
The seal on the tomb of Tutankhamon which had remained untouched for 3,245 years. (1922)
Section of family property in the courtroom, USA (1999) --- This heap of toys is a collection of Beanie Babies and at the time the cost of individual copies exceeded $1000.
Russian Guard Exercising (1990)
Rapper Eminem in the early 1990s
A rare photo of Ernest Hemingway and Spanish matador, Antonio Ordonez, drinking and laughing behind bars in Spain. (August, 1959)