Teach your child multiplication the easy way!
At some point in elementary schools, usually around the age of 7-8 years old, the school program involves the inevitable teaching of the multiplication tables. 
The terror, that the words, namely, multiplication tables, alone evoke, scares children and parents well before the time comes to study them, and most of all --- much more than it is necessary! 
If you want your children to learn their multiplication tables without it becoming a family nightmare, then here is an effective way to memorize them.
Learning multiplication with the help of multiplication tables (Pythagorean tables).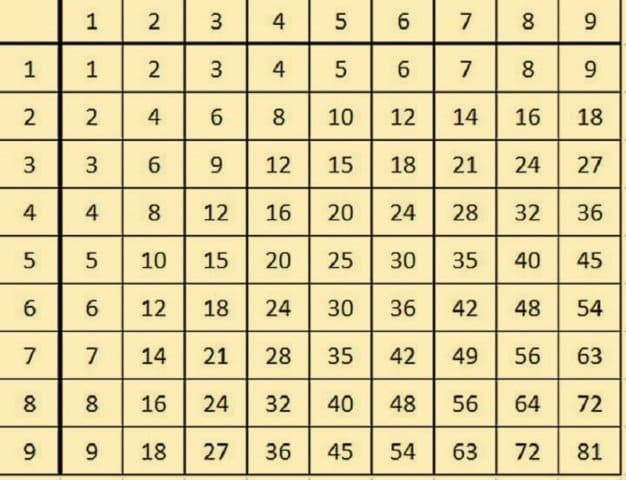 Before getting to the mental exercise required for multiplication, it is good to remember that the child must have already clearly understood the concepts of addition and subtraction.
When a child is able to do those kinds of calculations, then multiplication tables (Pythagorean tables) can be introduced to the young student.
On the multiplication table, the first line and the first column are filled with the numbers 1 to 10. The other fields contain the number resulting from the multiplication of the numbers between the column number and a number in the row. For example, taking 7 on the line and 2 on the column, the point of intersection is 14.
The possibility to have a visual reference while studying the multiplication tables allows for faster and more permanent learning.
To introduce the multiplication tables to a child, it may be useful to compare the multiplication result with a number of additions of the same number. For example, explain that 3 + 3 + 3 + 3 equals 3x4 and that the result is always 12.
The next step will be to let the child note that the result of 2x6 is the same as 6x2 (and so on).
Thanks to this method you will no longer have to rely on bunch of numbers on a white sheet of paper ...
Furthermore, you can use the multiplication table as an intuitive medium that stimulates visual learning in addition to the mnemonic and actually transforms what is a homework task into something that is much more similar to a game. Give it a try!