Hacks that are guaranteed to keep your feet HAPPY! :)
1. Line your flip-flops with cotton or another fabric because these types of slippers, if they are made of plastic, can cause problems for your feet.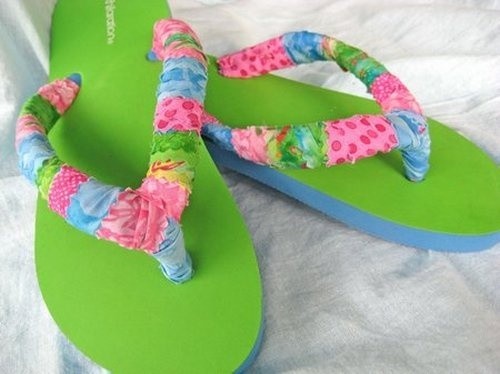 2. Rub sandpaper on the soles of your old shoes to give them a rough surface that will keep you from slipping.
3. If you wear heels, bind the second and third toe together with medical tape. This will help avoid and eliminate pain in the front part of the foot.
4. Put talcum powder in your shoes to prevent both sweat and smells and to eliminate that annoying squeaking noise that some shoes make.
5. Using insoles tailored to your feet will improve your walking ability.
6. If you have problems with bad odors then to eliminate them, just put a couple of tea bags in your shoes.
7. If you have a choice then it is always best to choose a shoe with a low heel.
8. If your shoes are too tight, insert a plastic bag full of water in each shoe and place them in the freezer. The freezing water will expand and increase in volume thereby, gently stretch the shoe.
9. Buy protective silicone gel to prevent blisters on your feet from rubbing against your shoes.
10. If shoes become too tight pack them with thick wool socks and heat them up with a hairdryer to solve the problem.
11. If your sneakers are used and worn, line the inside with cloth and this will make your feet feel more comfortable.
12. It is best to buy shoes in the morning because in the evening feet are usually swollen and you will probably end up buying shoes that are too large.
13. If in the evening your feet are sore just soak them in some hot water and chamomile.
14. If you need to wear heels all day remember to take breaks every now and then.
15. A shoe with an ankle strap is better because it gives more support and stability to your feet.
16. If your sneakers are too tight, try different ways of lacing them up and you will discover which way makes your feet feel better.