He bought a Rolex in 1960 for $120 USD and years later he took it to an expert that valued it at $75,000 USD
When someone with more experience than us gives us dispassionate advice, it is good to have the foresight to follow it because certainly, some benefit will come of it.
For this American veteran, for example, his advice came straight from his sergeant, who when they were both stationed in Germany in 1960, told him that he should not, under any circumstances, return to the States without having purchased a good quality Rolex.
Here in the video, the American veteran exhibits the Rolex watch that he purchased on that distant day many years ago in Germany, to an expert who will communicate to him the value of his watch.
Let's go inside the backstory ...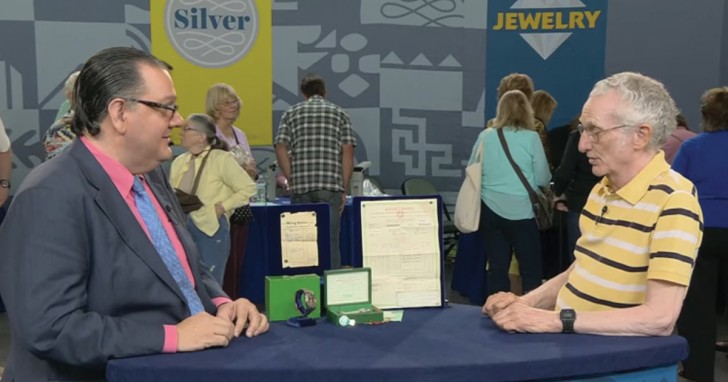 When this man was doing his tour of duty as an American soldier in Germany in 1960, he received a tip from one of his superiors, his sergeant, to be exact, to buy a Rolex before he went back home to the United States! In fact, the sergeant considered, and he was not alone, a Rolex to the best watch in the world! He did what his sergeant suggested, although it was a purchase that corresponded to more than one month of his then salary, which was $120 USD.
The evaluation and appraisal ...
In presenting the Rolex watch that the veteran wanted to have appraised, he had also brought with him, the box, the original strap, the receipt and the certificate of purchase with all the Rolex watch specifications. Thanks to this, it was possible to ascertain without a doubt, that the watch is a Rolex GMT-Master 1960, the first of this series that Rolex had ever produced.
A totally unexpected estimate!
When the expert summed up the combined uniqueness of all the objects that the veteran had presented, he explained that if he had only brought the Rolex watch its value was estimated at about $ 35,000 USD (not bad!). But, since he had also preserved every part of the purchase and everything was still in very good condition, the figure rose to $ 75,000 USD! However, if this lucky veteran decided to sell his Rolex, he would probably be able to obtain even more! Who knows what he decided to do ...

Below is the video of the evaluation with the veteran's reaction!