Stuffed Chicken Breast Roulade -- Discover this delicious recipe!
Chicken breasts are a food loved by adults as well as children. Chicken breasts can be cooked in various ways --- from cutlets covered in bread crumbs and baked or with the tidbits sautéed in a pan with flour, to fancy dishes rich in flavor and spices. 
Of all the thousands of recipes that you can rely on, though, we are sure that you have never tried the one that we are proposing today!

All that you need to make your chicken breasts taste like something you have never eaten before is this sensational recipe that utilizes ham, bacon, slices of cheese, and hardboiled eggs ...
The ingredients you need ...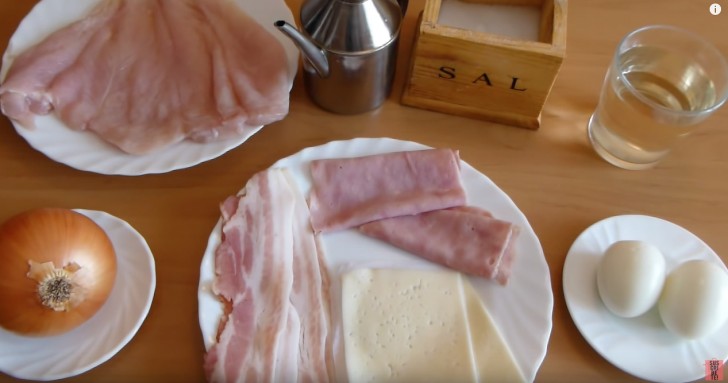 1 opened chicken breast (you can ask the butcher to slice it open)
4 slices of bacon
2 slices of ham
2 slices of cheese
2 hardboiled eggs
1 onion
olive oil
1 cup of white wine
salt
cotton string
First, lay out the chicken breast that has been sliced open on a chopping board.
Then place the four slices of bacon in the same direction on the open chicken breast.
Next place the two slices of cheese on the open chicken breast in the opposite direction to that of the bacon.
Now place two slices of ham over the bacon, one over the other to provide more thickness.
Lastly, place the two boiled eggs, right in the middle of the assembled ingredients.
Now, begin to roll up the chicken breast, trying to keep everything together and compact inside the structure to prevent anything from falling out.
Next, put the chicken breast roll into a baking pan together with the cut up onions and the white wine. Cook in the oven at 190°C for 55 minutes.
Voilà! Here is the fantastic final result --- soft, tasty slices of stuffed chicken breast roulade!
Moreover, if you prefer you can serve this it with a sauce, perhaps derived from combining the onions and wine that were used to cook the roulade and ... Bon appetit!
Would you like to follow this recipe step by step thanks to an audiovisual support? Well, here is a practical video to show you exactly what to do ...