Discover a delicious Tunisian dish!
Serving a typical dish from a foreign country at your table is an alternative way of getting to know the world without leaving your house.
In fact, the ingredients used to prepare a dish are closely related to the territory, to the climate and sometimes to religious traditions.
If you are fascinated by Middle Eastern culture, this dish will take you thousands of miles away with a single bite.
Always present in the Tunisian diet, Shakshuka is generally placed at the center of the table, accompanied by lots of bread and the diners serve themselves directly from the cooking pan.
Here are the ingredients you need for four to six people.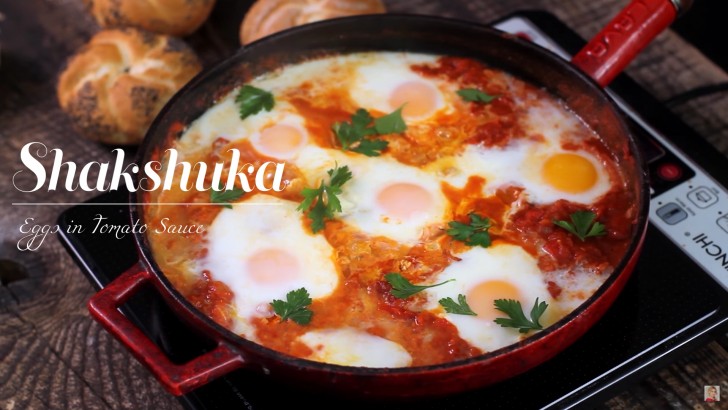 1 tablespoon olive oil
1 medium-sized onion
2 cloves of minced garlic
1 red pepper
2 cans of tomato sauce
2 tablespoons f tomato concentrate
1 teaspoon each of paprika, ground cumin, and chili
1 teaspoon of sugar
Salt and ground pepper
6 eggs
Fresh parsley or coriander to garnish
Start by cutting the onion into small pieces. Put the onion in a non-stick pan to cook and once softened add the olive oil.
Cut the red pepper and cook it together with the onion for five to seven minutes.
Add the tomato concentrate, tomato sauce, and spices to the pan. Stir and let simmer for 15 minutes on a low fire.
You can choose the quantity of each spice according to your taste.
When the water in the sauce has almost entirely evaporated, make open spaces in the sauce with a spoon and fill each space with one whole egg being careful not to break the yolk.
Cover with a lid and cook for 10 to 15 minutes. When the eggs are well-solidified, add parsley or coriander to garnish.
Your delicious Shaskshuka is ready!
According to Tunisian tradition, diners do not eat this dish on individual plates but serve themselves directly from the cooking pan placed in the center of the table. An excellent idea for a themed dinner party!
Follow the step-by-step preparation of this tasty dish as indicated in the video here below!