Terminally ill man gets to hug his newly-born baby just before he dies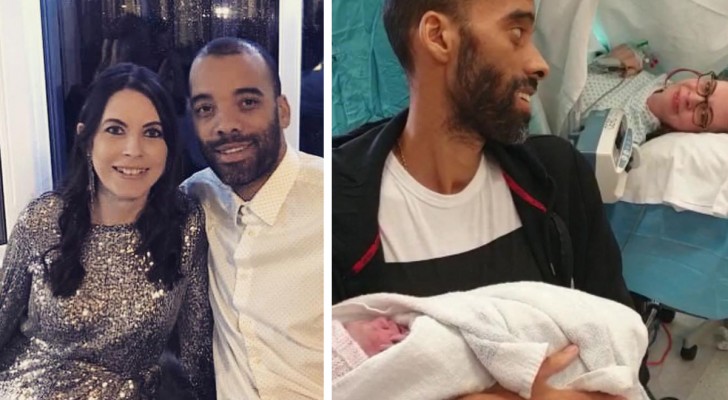 Advertisement
Life doesn't always go as it should and sometimes, for some, it ends prematurely, "at the climax", so to speak: this is what unfortunately happened to Jamie Hunter, a young coach who discovered he was suffering from a terminal illness just as he was waiting for his first daughter to be born. Because of this, his partner and mother of their daughter, Beccy Flint, chose to give birth to her baby girl early so Jamie see and hold her in the last days of his life. Here is the story:
via Mirror
Advertisement
Jamie and his partner Beccy discovered that they were expecting their first child together in 2019: the due date was expected for the end of May 2020. However, in October 2019, Jamie began to suffer from crippling pain in his side. He went to the doctor and discovered he had kidney cancer: unfortunately he was already in the terminal stage and probably would not live long enough to see his baby born.
For this reason, Beccy decided to give birth in her eighth month of pregnancy, in order to give Jamie the possibility of holding his daughter, Harper-May, in his arms before he died: the delivery went well and Jamie was able to embrace his daughter. Sadly, Jamie passed away just two days after the birth of little Harper-May. And added to the pain of losing Jamie, Beccy had fight a legal battle.
Beccy had to fight for two years to get her partner's name on her baby's birth certificate. The lawsuit cost her $4,000 dollars. All this because Beccy and Jamie weren't married. "If I think back, I still feel so angry: if we had been married, they would not have objected to the registration of the paternity of my little girl. All this hassle only because the law is so obsolete. Today, many people are not married when they have children," she said.
Beccy even had to have an interview with social services, where they even asked her to explain why Jamie wanted to become a father and to demonstrate that she was a suitable parent: "All these difficulties arose from the fact that Jamie was not present to give his consent". Two years later, Beccy finally got a birth certificate with Jamie's name on it as the father.
Let's just hope that the future will happier for Beccy and her daughter.