Woman's adopted daughter gives her a golden"Mom" pendant: she can't hold back her tears of joy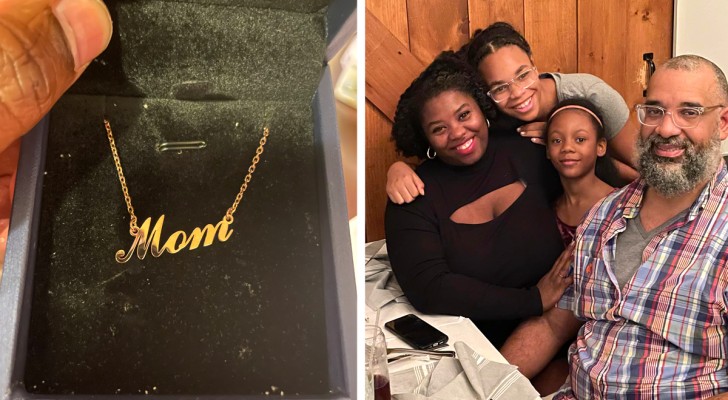 Advertisement
Adoption is not just a way for parents to expand their family, but it also means giving a second chance at life to children or teenagers who have no family to call their own. For this reason, although it is now a very common practice, it is always pleasant to read about adoption success stories.
An example of one of these stories is about a teenager who did something wonderful for her adoptive mother and touched everyones' hearts.
Advertisement
This story took place in Brooklyn, in the United States, where L Joy Williams - a woman involved in politics - decided, together with her husband Miles, to adopt a young girl. The girl they eventually adopted was a teenager, not quite 14 years old.
To show her appreciation to her new family, the teen girl did something that touched the heart of her adoptive mother, and caused her to weep with joy. In a tweet, Mrs William shared her emotions with users.
Advertisement
Along with a photo of a gold pendant spelling the word "Mom", Mrs William posted the following: "The young girl, who has recently joined our family, turned 14 today. After singing happy birthday together, I gave her her presents, which she opened. Then she told me she had something for me - the gold pendant that you can see. You'll have to excuse me, but I'm going to my room to cry."
These words show how moved Mrs William was by the girl's gift. Mrs William said: "We never intended to replace her biological parents. We just wanted to be there for her and make her feel happy". And apparently, this is exactly what happened. The gift the girl gave to her adoptive mother is clear proof of this.
Many who read the post shared Mrs William's emotions and congratulated her for doing such a good job caring for her adoptive daughter.
When you decide to adopt a child, you take on many responsibilities and challenges which only loving care can overcome. We wish this wonderful family all the best for the future.
Advertisement