Woman who is tattooed from head to toe decides to remove the tattoos from her face: "I was missing my real face"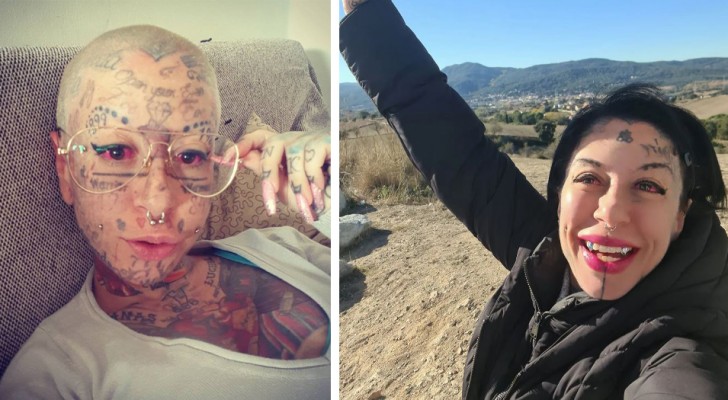 Advertisement
Nowadays more and more people of all ages are getting tattoos. Often, the chosen design represents something significant in a person's life; at other times, it can be purely decorative. Young Lidia Reyes, 32, of Catalan origin, is the most tattooed woman in Europe. Recently, after winning the European most-tattooed title, Lidia decided to remove her face tattoos. Once done, the young woman explained the reason for doing this in a video shared on her social channels, where she has thousands of fans.
via La Vanguardia
Advertisement
"I'm removing my face tattoos because I'm tired of them, not because I don't like them or because I find myself ugly; I love face tattoos, that's why I got them," she explained. "However, I've begun to miss my face, which is why I'm getting laser treatment to remove them. I'm tired of looking scribbled on," she added.
That said, Lidia still has ambitions of becoming the Guinness World Record holder for the woman with the most tattoos. In fact, she has kept some of her face tattoos and has even tattooed her eyeballs. To do this, she resorted to a very delicate technique which consists in injecting the ink between the conjunctiva and the layer of sclera that protects the eye. But how can she win a world record with a "clean" face?
Advertisement
The answer is very simple: she will have tattoos put on "still-free" areas of her skin, such as the soles of her feet. Her goal is to tattoo 95% of her body to qualify for the Guinness Book of Records. "All tattoos have meaning for me, I don't want to lose them," she commented. To clear her face, the young woman underwent a painful and lengthy laser treatment that required multiple sessions over the period of two months.
"It hurts. It's like they're flicking you with a rubber band across every inch of your face – that's how painful it is. But I'm the least qualified to talk about this because I have a very high pain tolerance," she said. "It burns on the face, especially when it gets close to the eye area. That's a delicate area, but I manage. Does it hurt more or less than getting a tattoo? It depends on the tattoo - there are areas that don't hurt and others, like the head or the first joints of the fingers, which really hurt a lot".
What do you think Lidia's tattoos? Let us know in the comments!
Advertisement