12-year-old raises $11,300 selling popcorn: he spends it on Christmas gifts for underprivileged kids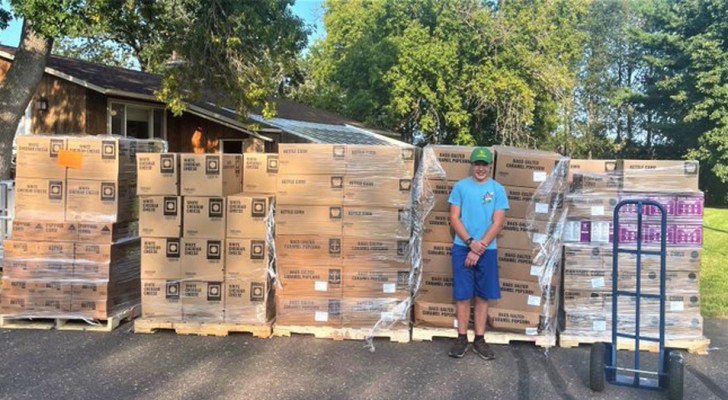 Advertisement
Many children love Christmas: for them it's a magical time and an opportunity to get wonderful gifts and eat tasty treats. Unfortunately, not all children can fully enjoy Christmas, often because their families are in financial difficulties and/or they are in foster homes. For this reason, for the second consecutive year, a 12-year-old boy scout decided to "transform" himself into Santa Claus and invested a total of $11,300 dollars in Christmas gifts for over one hundred children in foster care and adoption facilities.
via The Guardian
Advertisement
Young Jonathan Werner is the best popcorn seller in the Boy Scouts of Minnesota and one of the top three in the United States. As is well known, in the States it is a tradition for young scouts to sell sweets, biscuits, popcorn door-to-door to teach the scouts responsibility and economic self-sufficiency.
From the age of six, Johnathan has been going from door to door offering people his delicacies: "Many tend to say no to me, but for me, a "no" represents one step towards a "yes" and I know how convince them," he said. In 2021 alone, he raised $46,194. In 2022 the figure rose to $56,396, an increase of more than $10,000!
Johnathan explained that he decided to start his humanitarian project after hearing about his father's experience in foster care: "Based on the stories I've heard from him, it didn't seem like those kids had a great Christmas," he said. "I've definitely learned a lot doing this. I've learned how to manage money and it also makes me very happy to know that children who wouldn't get gifts for Christmas now will, thanks to my project," he added.
"I'm proud of what my son has chosen to do. He's moved me, he's inspired me personally. But I've also seen him inspire his siblings and our friends and other people in the community, so it's really special. It's great to see he's really making a difference in the lives of the underprivileged," said Steve, Johnathan's father.
What can we say? Congratulations to this young philanthropist!