Two women work together and form a strong friendship: after a few years, they discover that they are sisters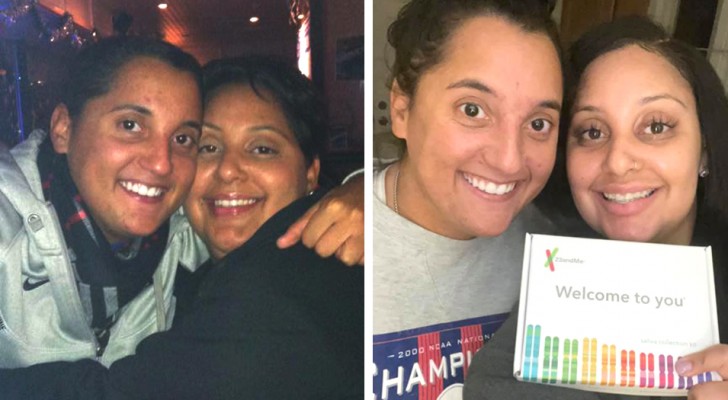 Advertisement
Sometimes strong bonds of friendship can develop and one can get along so well with a person that you might consider them basically one of the family. Sometimes, these are friends one met at a young age and who accompany you throughout your life. At other times, it's men or women we have met as adults, but who have found a place in our hearts.
The two subjects of this story found themselves in a friendship like this: two women who met by chance, became good friends and, later, became a lot more.
via Cassandra Raquel Madison/Facebook
Advertisement
Julia Tinetti, 31, and Cassandra Madison, 32, met back in 2013 when they both worked for a club in New York. In a very short time, the bond between them grew very strong and they became fast friends.
"We always felt we were very similar," said Julia. She continued: "We saw each other very often, we spent time together and our relationship was always stong. Our ideas about things were very similar and we also started dressing in the same way". This is a very rare experience that only a few are lucky enough to have. Even work colleagues had noticed the close relationship between the two and some said that they could be sisters.
In reality, both women had been adopted as children, but by comparing their adoption documents, no trace of a possible family link between them had emerged. However, deep down, these women felt that they were connected by much more than just friendship, so they decided to investigate the matter further.
After discovering that they had the same tattoo (clearly done in the Dominican Republic), Julia and Cassandra investigated their backgrounds thoroughly. And, after several years of digging around, they got confirmation that they were sisters. Both adopted at a very young age, neither of them knew anything about their biological family. But their investigations led them to discover that they had the same biological father: Adriano Luna Collado, who still lived in the Dominican Republic.
Adriano told the women that, with his wife, Yulianna Collado, they had had 9 children, including them. Unfortunately, when the girls were born, the family was unable to raise them. So, to save them from a life of hardship, they have been put up for adoption. Luckily, fate reunited them and that together they managed to find all their blood relatives.
We wish these two women many happy moments together with their "new family" and that they will never be separated again.