Followers criticise them because she is overweight, while her husband is attractive and fit: "How do you manage to stay together?"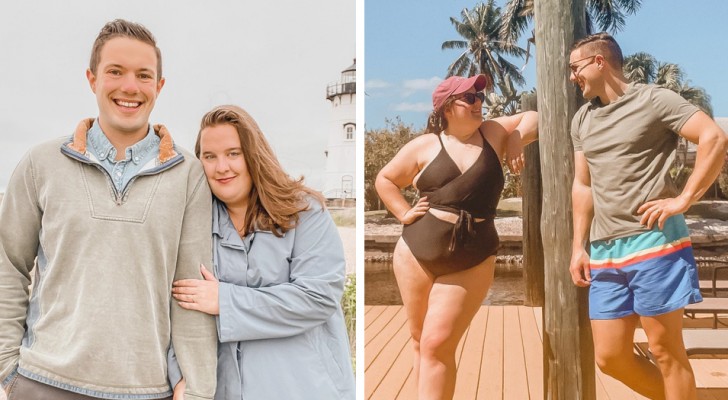 Advertisement
Today's society frequently judges people on how they look and without really giving any credit to other factors. Often, it's appearances that matter the most. This philosophy has led to the emergence of many stereotypes about beauty - which most people do not fit. It is exhausting to try, every day, to live up to an image that is near-impossible to achieve. Indeed, the true key to happiness is accepting yourself and accepting your body for what it is. Gina Miyares knows this very well, and she had to deal with people's prejudices after revealing what her young husband looked like.
Advertisement
Gina Miyares, 28 years old from Massachusetts (USA), is happily married to Josh Miyares and also shares her stories of marital bliss on Instagram. When she started posting photos of herself with her husband, she didn't expect to get so many negative comments. In fact, many users began to crticise the couple, because they judged Gina to be overweight, while Josh was seen as handsome and in shape. In other words, many users believed Josh was "out of Gina's league". The difference in physical forms between the two confused some users, who made very cruel comments about Gina.
Advertisement
The couple have been married for three years now and couldn't be happier, even though they are struggling to get pregnant. On social media, they shared their story, looking for the engagement of those who, like them, hope to become parents soon. But instead of receiving messages of support or encouragement, they got a lot of rude comments about Gina's appearance. "I've gotten comments from people saying, 'Oh wow, I'm surprised you two are together since Josh is so active and fit.' People don't understand how he can love someone who is a plus size," Gina said, adding: "They even say I look like a man, which is ridiculous. Or they think Josh is secretly gay and is simply pretending to like me."
Gina stated that these cruel comments do hurt and added: "Josh and I spend all our time together and we are in love. We are sure of about the stability of our relationship".
What do you think about this?
Advertisement