Young woman loses her fiance and no longer wants to attend her prom: the man's father offers to accompany her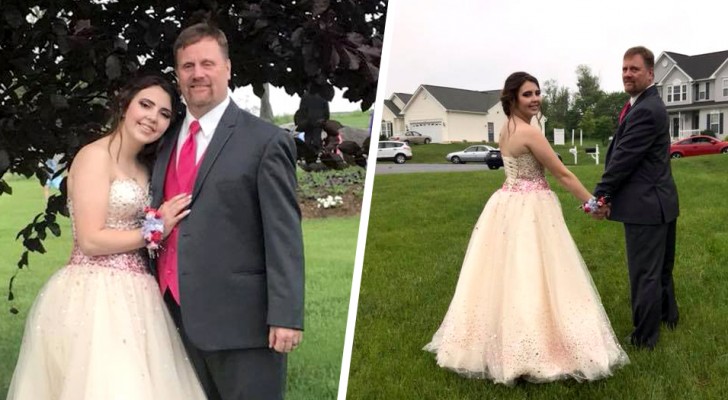 Everyone in life has good times and bad. And in bad times, you need the support of your loved ones. Only in this way, can one overcome these bad times and start living again.
The young woman we want to tell you about here found herself in a similar situation. She is an 18-year-old who had to deal with the death of her fiance. Here is her story:
via CBS 58
Advertisement
Kaylee Suders is a young woman from Pennsylvania who, during her high school years, met Carter Brown. A strong relationship developed between the two, and for 3 years they remained friends. Eventually, love prevailed and they decided to get engaged. It was a happy and carefree relationship that unfortunately, ended abruptly when Carter died at the age of just 21.
For the young woman, and for the Carter's family, this was a hard blow, but life must go on. Dealing with this, Carter's dad, Robert Brown, decided to do something specail for Kaylee. Kaylee was in the last year of her schooling and she was planning to go to the prom with Carter - but fate had other plans in store. Robert decided that Kaylee should not miss out on her prom.
Robert, who worked as a teacher at a girl's school, knew the prom was approaching, and offered to escourt Kaylee. Kaylee was stunned by the offer but could not help but accept the offer. Kaylee said she was grateful to Carter's family for how they treated her, for their shows of affection and for not "excluding" her from their lives when Carter passed away. Kaylee's mother, Christina Nichols, echoed this sentiment.
The photos of the prom were shared by Carter's mother on social media, accompanied by these words: "I add this to the list of reasons why I am in love with my husband. Since our son could not take Kaylee to the prom, he offered to escourt her".
Advertisement
This was a clear demonstration of love both towards the girl and their deceased son. And it was a way - especially for Robert - to step out of the darkness that had enveloped the Brown family.
We hope that these precious moments can help console the Brown family and that Kaylee will have a peaceful future.