5-year-old boy visits the grave of his twin brother and tells him about his first day of school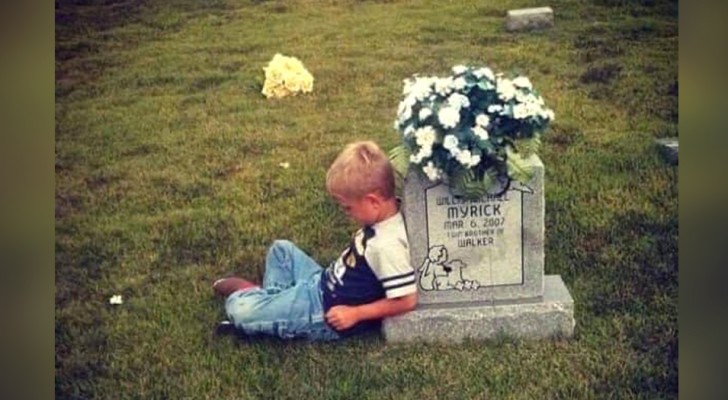 Advertisement
The bond that unites twins is something which is extraordinarily strong, and seems to surpass any other family bond. Theirs is a very great relationship of love, which sometimes even exceeds that between a mother and child: twins can complete each other's sentences and seem able to feel each other's emotions. This may be why, when they are separated for any reason, they miss each other immensely. Walker Myrick never met his twin who developed in his mother's womb alongside him, but this does not mean that he does not miss his twin brother, who passed away. Little Walker keeps the memory of his little brother alive, helping his mother's suffering from this great loss.
Advertisement
Not all pregnancies are successfully brought to term, and unfortunately Brooke Davis has experienced this loss. The woman was pregnant with twins, Walker and Willis Myrick, but sadly, the latter was stillborn. Before he was even born, Willis was a victim of Feto-Fetal Transfusion Syndrome, a clinical condition in which two or more twins share the same placenta and in which there is an unequal distribution of blood from the placenta to the twins. Unfortunately, in cases like these, the death rate is quite high, which is why Willis didn't survive. Despite this tragedy, the twin who survived childbirth, Walker, feels attached to his deceased twin brother and often pays homage to him, keeping his memory alive.
"It's one of those things ... I really think he will always have a bond with his brother," said mother Brooke, clearly very shaken by the loss of one of her children. The bond Walker has with Willis, and the way he demonstrates it, has made things a bit easier for Brooke. She is proud that her son continues to remember his brother. The boy, in fact, often dreams of his twin brother and often goes to his grave - accompanied by his parents - where he talks to him, telling him about his daily life. Walker's mom took several pictures, capturing a very moving scene.
In 2012, Walker was only 5 years old and had just started kindergarten; during one of his visits to his little brother's grave, he began to tell him about his first day of school. It was a very moving scene, to say the least.
Advertisement
Even with the passing of the years, the bond that Walker feels with his brother Willis has not waned: "I still remember my brother today. He protects me from up there," said young Walker in 2016, at the age of 9. Walker's love for his brother has helped Brooke to overcome the tremendous pain that the loss of her baby boy had caused to her. Nobody in the family wants to forget Willis, so every year, on the twins' birthday, they visit his grave, and sell T-shirts. The proceeds are then donated to a foundation that promotes awareness of fetal-fetal transfusion syndrome.
We are confident that Willis' memory will be preserved forever by his family.