These 4 friends went through their first and second pregnancies at the same time
The pregnancy period is a very important time for every woman. For better or for worse, given the physical discomfort that arise in many cases, the 9 months in which the baby is in the womb is a fantastic, unique and unforgettable experience. All of this is amplified when particular coincidences occur, such as the one we are about to tell you about.
In this case, 4 friends experienced their pregnancies over the same period. The story was told on the account of TikTokker, Maddie Castellano. Maddie is a famous social media influencer who told her story using video and photos, documenting the extraordinary experience she had. Let's find out together what happened: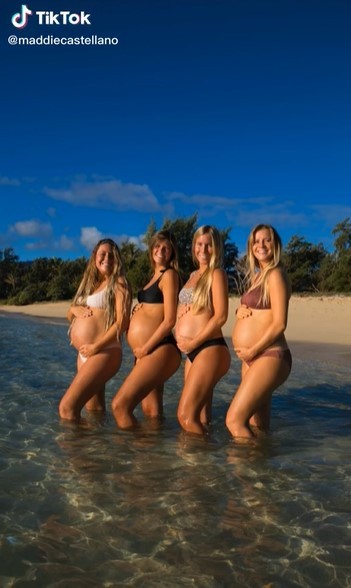 Friends since they were at university, the 4 women had always dreamed, talked about and wanted to have children, but they would never have imagined that a coincidence like the one in which they were participate could happen.
Maddie Castellano posted a video on social media in which she tells about herself and her other 3 friends and stated that they had all started making attempts to get pregnant at different times, but then fate stepped in and, incredibly, all 4 of them conceived at around the same moment.
This timing meant that they helped and supported each other throughout the pregnancy period and, once born, the babies can grow up and play together. "Since birth, our babies have been best friends," says Maddie in the video. "We do a lot of things together and we see each other often so we can spend a few hours all together," she said. This is a very unique reality, to which another incredible surprise has been added.
After the birth of the first 4 children, the women got pregnant again - and again, all at the same time.
"It was unbelievable," continues Castellano. "After the birth of our first little ones, another miracle happened: all of us discovered that we were pregnant for a second time and, again, just a few months separating each other regarding the conception dates," Maddie said. This revelation evoked the same emotions in the four mothers, and they all united and doubled their devotion to their little ones.
This is a very unique situation that has excited many web surfers - so much so that the video has managed to collect a very high number of views: about 7.5 million. A very high number, but, how could it be otherwise, given the peculiarity of this story?
Similar cases do not often occur in the history of pregnancies, but when they do, they always manage to evoke strong emotions, don't you think?