This mom gives birth to her third set of twins - the odds are 1 in 200,000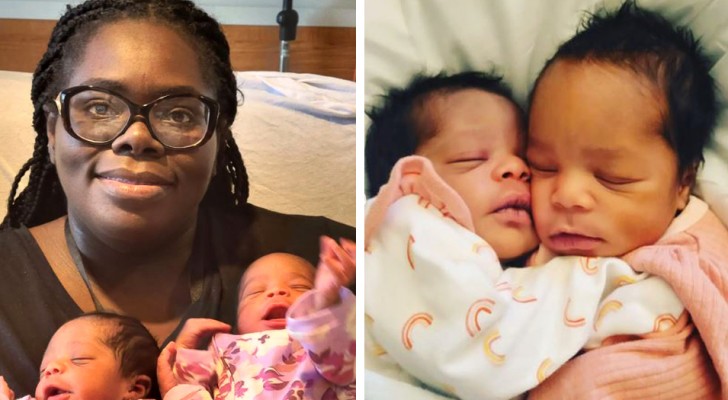 Advertisement
Anyone who has had the opportunity to become the parent of twins knows how unique and special this experience can be. Having twins is already in itself a unique event for two people who love each other - so try to imagine if it happened two, three or even four more times to the same couple. If there is any doubt about the possibility of this happening, we can not blame you. After all, even doctors agree this would be a highly unlikely scenario, putting the chances at around 1 in 200,000.
Despite the near impossibility, this rare event is something that has actually happened. For example, for Kimberly, a 37-year-old mother who, after having already given birth to two sets of twins, has "birthed a set of three" with the arrival of Kenzy and Kenzley, two beautiful twin sisters. Here, we tell you their story:
via Dailymail
Advertisement
Kimberly Alarcon is a 37-year-old woman who has just given birth to her third set of twins. That's right. Some time after the preceeding birth, two little twin girls, Kenzy and Kenzley, were born who joined Brittney, Sarah, Hunter, Zachary, Zoey, Olivia, Oliver and King.
The woman confessed that she and her husband had always wanted a very large family. Kimberly said: "My brothers and I made up a family of 10. Not happy with this, my mother decided to adopt 8 other children and, despite the chaos, we grew up healthy and happy. My husband, John, has only one brother, but he immediately became accustomed to our family "army". There are moments of great chaos, I admit, but we are like all other families. We have days when everything is fine and others when some problem arises - but we always manage to overcome these challenges together", concluded the woman.
Kimberly's case is very rare. As some doctors explained, it seems that the odds of achieving the birth of three sets of twins is vanishingly low. However, two factors that could contribute to this rare event: 1) the age of the mother being above 35 years of age (as it is in this case) and; 2) biological inheritance on the side of the mother.
Considering all these factors, one thing is certain: something wonderful and rare has happened for this mom and this dad. We can only imagine the joy of seeing a third set of twins being born - seeing them grow and play alongside all their other brothers and sisters. Add to this the fact that Kimberly and John have always wanted a large family, then this event becomes truly special and unique
We just this family to have a good life together with all their little ones!