Couple spends $ 27,000 dollars to restore a bus and turn it into their home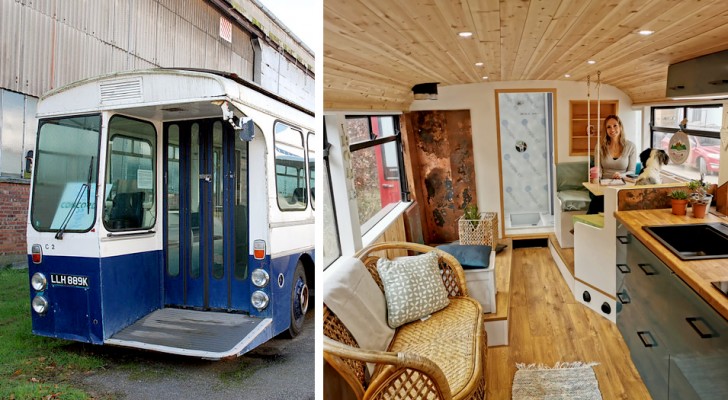 Advertisement
When a couple decides to get married or to live under the same roof on a permanent basis, one of the most common dreams to reach for is to be able to buy a house of their own. Sometimes the dream remains only a dream due to economic challenges and the size of the mortgage to be paid. Sometimes the dream of owning a home is just a fairy tale for many. And this is one thing that Lamorna and Gareth Hollingsworth know well, in their own way. These two are a British couple who modernized an old bus from the 1990's and transformed it into their permanent home... a home on four wheels!
via Daily Mail UK
Advertisement
These two enterprising individuals from Great Britain have decided to fulfill their dream of owning a house of their own and, at the same time, to travel continuously to discover new and unexplored places. Given this goal, they could not help but take the opportunity to buy an old bus from 1997 and to restore to the point where it became thier new, four-wheeled, permanent home. To do this, Gareth and Lamorna spent about $ 27,000 dollars of their savings, but they are convinced that it was worth every cent.
Advertisement
Gareth Holligsworth said: "It was important for us to be completely self-sufficient. Our solar-powered setup gives us nearly 4 kilowatts of lithium battery storage - enough for nearly a week of using all our gadgets in our refurbished bus." And this is true, because the four-wheeled house built by this ingenious English couple runs mainly on solar energy, while the remaining electrical connections are powered thanks to the use of lithium batteries in conjunction with solar panels. The restoration work on the old bus from 1997 took almost two years, but now the couple's house is ready - it is fully functional and it is also spacious enough for two people. The bus is a double decker, so there is ample space between the kitchen, bedroom and bathroom, for example.
The ground floor consists of a kitchenette, a dining room and a bathroom, while what can be considered the first floor consists of a number of open rooms, including the bedroom, and a fireplace: "Think of this as a small house instead of a bus disguised as caravan. We chose a bus because we wanted enough space to live comfortably, but with the ability to move whenever we want. "
In fact, the couple can't wait to go around Europe with their new four-wheeled house, but they hope to "stop" permanently in Spain or Portugal, where they intend to live a life dedicated to eco-sustainability and without the specter of having to pay a mortgage on their home...
"Most people are either jealous or think we are crazy, but the challenge is part of the fun for the two of us. We will be mortgage free, have a home on four wheels and be free to see the world and enjoy its beauty!"
And what about you? Could you live like this, inside an old bus and continually traveling around the world like Gareth and Lamorna?
Advertisement