Young woman works as a bricklayer every day to pay for her studies to become a lawyer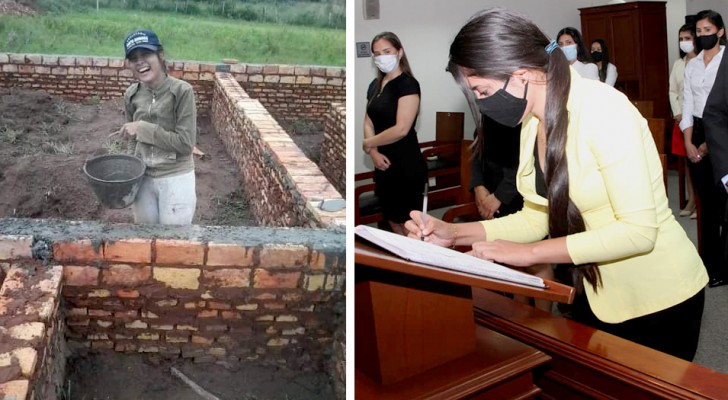 Advertisement
When we want to reach a goal, all we can do is to work hard and make many sacrifices so that this dream can become a reality. Even if we often and willingly do not acknowledge it, we human beings have inside us a fire that burns bright and  will never go out. And it is this fire that can be considered the symbol of our strength and our perseverance. A one-of-a-kind perseverance that also distinguished an extraordinary young woman from Paraguay.
via El Tiempo
Advertisement
This is the story of Magali Jimenez, a girl from Paraguay who fought hard to make her life's dream come true. Her dream was to graduate with a law degree from universtity and one day to eventually become a successful lawyer. To make sure that she could afford to pay for her university fees, Magali worked long hours, every afternoon, as a bricklayer and construction assistant at her father's construction site: "Many people told me I was dreaming, that I would not be able to complete the 6-year degree to become a lawyer because it is one of the most expensive there is (apart from medicine). But I refused to listen to them - I knew I could do it and today, with a degree in my hand, I proved that I could do it! ", said the young Paraguayan woman.
Advertisement
Of course, the road to complete the long course of studies was not at all easy for the young woman - especially when she had to pay for the enrollment fee for the law course: "To pay that first initial installment, my father went to work without having a construction assistant at his side in order to avoid having to pay for another employee's salary. It was then that I made the decision to become his construction assistant and work as a bricklayer during those months and so be able to earn the money to pay for my college expenses. "
This was a choice of a path full of sacrifices but which, in the end, bore her extraordinary fruits. Magali Jimenez has now graduated in law, and has become what she has always wanted to be - that is a practicing lawyer!
Ever since Magali published her photographs on Facebook that tell the history of the path she took to realize her big dream, she has received a lot of support from friends, acquaintances and everyday users who have expressed their support for the choices made by the young woman and congratulate her for finally becoming a qualified lawyer.
Congratulations from us too, Magali!
Advertisement