Father transports his daughter to her wedding on a bicycle decorated with flowers and balloons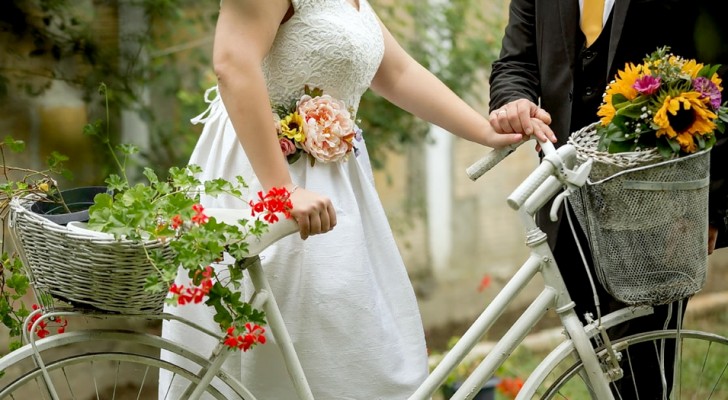 Advertisement
When a woman decides to get married it is traditional to be transported to the church or to the town hall in a luxury car or a limousine. Certainly no one would ever expect a bride in a white dress to arrive riding a bicycle, for example. Yet this tender story of family love tells of a very loving and unique father and his daughter who is about to get married and who accepted her father's idea of how he would do anything to be able to accompany her to the church on her special day...
via El Universal
Advertisement
This wonderful story happened a short time ago in the town of Santiago Miahuatlán, in the Puebla region of Mexico, and stars Juan Carlos Cacho and his daughter Cristina. The two sparked a lot of chatter and gossip about themselves when they were immortalized in pictures by local citizens and by the guests at the young woman's wedding. And the reason? The bride showed up in a white wedding dress at the front of the entrance to the church riding a bicycle, which had been decorated with beautiful, colorful, fresh flowers. And the person ferrying the bride on this special bicycle, was her father, Juan Carlos.
Take a look at the unforgettable wedding photos below:
Advertisement
From the images that have been posted to the web - and that did not take long before they went viral - you can see the crowd of Cristian Cacho's wedding guests. Happy and curious people, who gathered around that unusual means of transport - unusual for a wedding and yet so touching and so tender. Just a simple bicycle, fully decorated on the occasion of the special and unforgetable day. Juan Carlos knew perfectly well that his daughter's wedding would be a unique and unforgettable moment in their lives, so he wanted to make sure he was the one to bring the bride to the church on her special day and in a unique, original way.
This was a particularly emotional moment that every daughter dreams of having withher father, and certainly Cristina was particularly happy with the experience that her father created in this way. Arriving in a white wedding dress on a bicycle decorated with fresh flowers and colorful balloons is not something one see every day! And all the credit goes to Juan Carlos for this - truly a one-of-a-kind dad indeed!
Advertisement