Woman organises a faux wedding to have her dad by her side before he passed away from cancer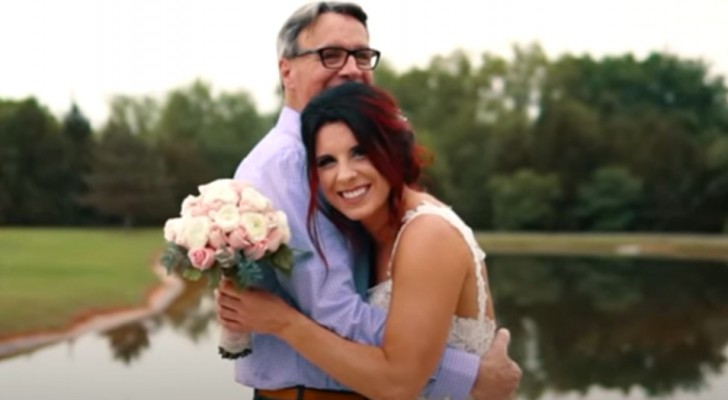 Advertisement
Saying goodbye to a parent is not easy and it never will be: accepting death, on the other hand, never is. Sooner or later, however, we will realize that our parents will probably leave before we do. This doesn't make things easy, but it can help one plan your later years of life better. Megan Roy knew that her father was suffering from cancer and, following his decline, she knew that he would not live long enough to accompany her to the altar at her wedding. All the daughters long for their father's presence as they walk down the aisle, but Megan didn't have the time to wait. For this reason, and with the help of her whole family, she organized a fake wedding - a sort of "dress rehearsal" before the real event, in order to have the experience with her father.
Advertisement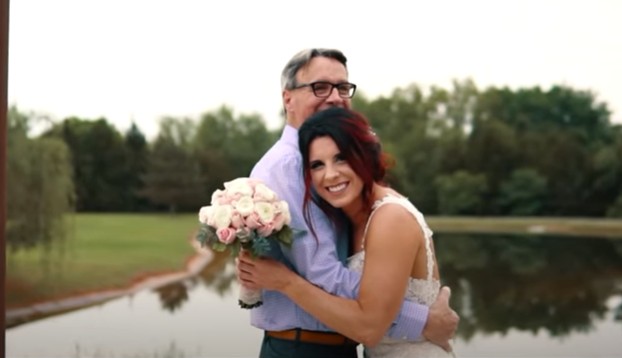 Youtube Screenshot / Megan Roy
Megan Roy recounted her devastating family story, of how she lost her father to cancer that spread throughout his body, and how she arranged a faux wedding so she could dance with him while dressed as a bride. We cannot even imagine the pain caused by such a loss and we cannot help but be moved by such an touching plan.
Megan's entire family, including her father, thought the worst was over: his throat cancer had been defeated and her father had painfully recovered his strength. This was an episode that made everyone reflect on how suddenly changes in people's lives can be and how important it is to enjoy life with loved ones while they are still with us. No one expected that, in a time of relative peace and tranquility, the cancer would return. To tell the truth, perhaps it had never quite all gone, since from the throat, it attacked the father's liver and then, finally, it spread to his brain.
When you get hit with such terrible news, the first thing you think about is about the future. And Megan thought about it too: "And then, out of nowhere, I thought about the future and all the things Dad wouldn't be there for. I was still graduating. I was preparing to buy my first house. I needed help with things like repainting the walls and maintaining the garden. And Dad was not going to be here? And what about when I will have kids? He wouldn't be there at the hospital with me? And God, my wedding! I wasn't even dating anyone at the time. He wouldn't be there to walk me down the aisle. I sat for hours on the bathroom floor and cried about the future and how I would have to handle all these things, big or small, without him. "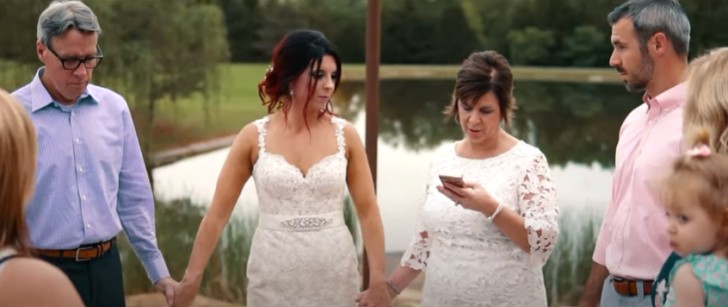 Youtube Screenshot / Megan Roy
So Megan decided to get her dad dressed, with a striking purple shirt, and organized a faux wedding in order to be able to experience the thrill of dancing with him on her "wedding" day. It did not matter that the young woman was not actually getting married, because the photos and the video of that moment will forever be a happy and indelible memory for her. Everything was perfect - it was just like Megan was actually getting married. "We're just practicing," she told her dad that day, even though they both knew it wasn't. Subsequently, the young woman was also able to show the film of the wedding to her father, who, by then, was hospitalized.
It's been 3 years since her father passed away and Megan still doesn't know how to deal with some of the more difficult days, in which the very thought of her dad makes her cry despairingly. A year after losing her dad, the young woman met her future husband and she knows that she will not have her father next to her on her real wedding day. But she is still grateful that she had the chance to dance with him that day. "I try to live life without regrets and to love everyone along the way, just like he taught me," said Megan.
If there is one thing we can learn from this moving testimony, it is that we should never take life and the relationships with others for granted.